Connect C200 Wi-Fi surveillance system
Connect C200 Wi-Fi surveillance system
Resolution: 2 Mpx (1080p)
Framerate: 20 FPS
Viewing angle: 75,7°
Range: do 300 m
IR diode range: 30 m
Motion and face detection
Simultaneous preview from 4 cameras
Dispatched within:
24 godziny
Delivery:
The price does not include any possible payment costs
product unavailable

add to wish list
Description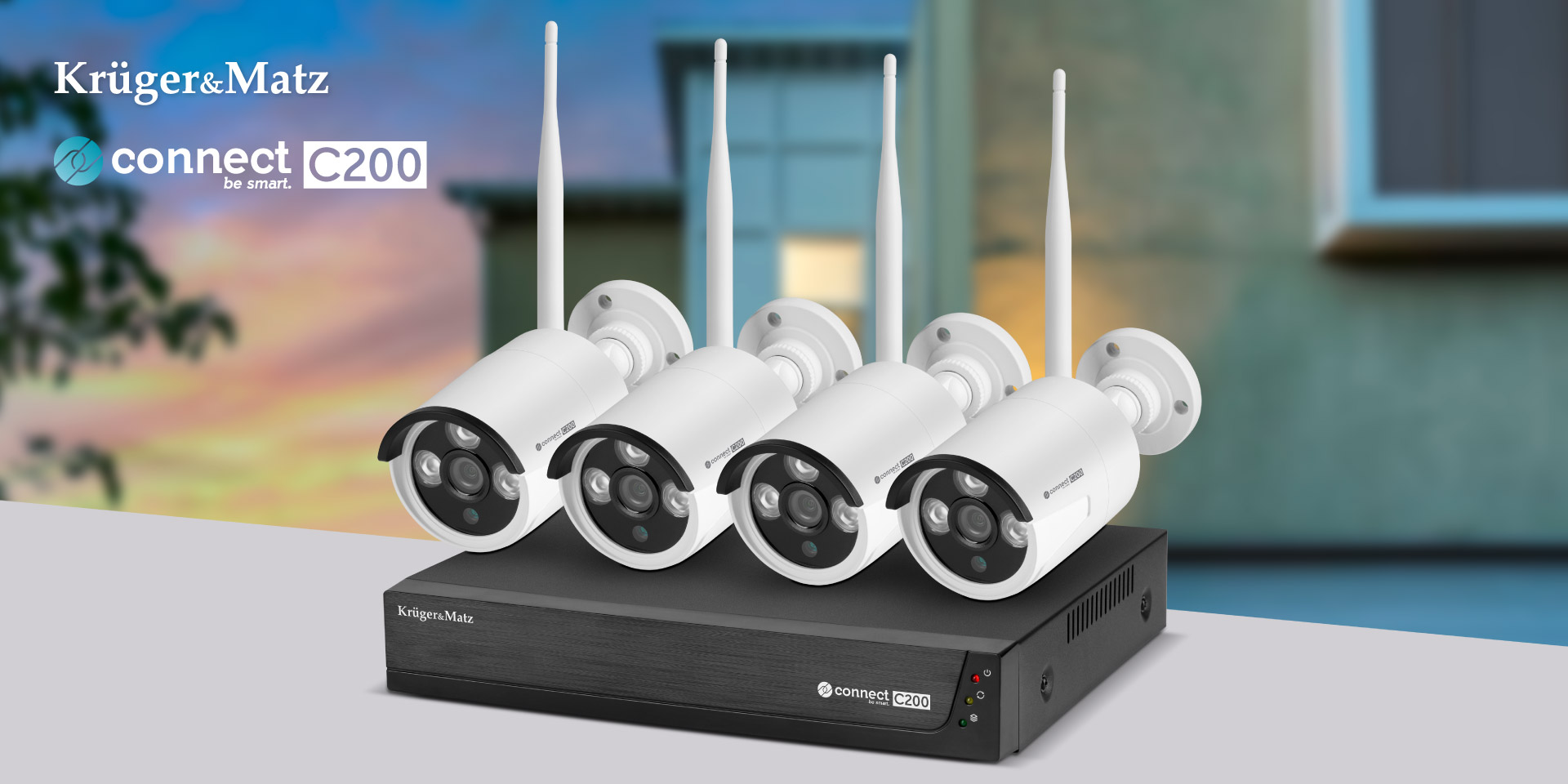 System monitoringu zewnętrznego Wi-Fi Kruger&Matz Connect C200
Connect C200 to wysokiej jakości bezprzewodowy zestaw kamer z rejestratorem, który idealnie sprawdzi jako system monitoringu domu bądź firmy. Do dyspozycji masz 4 kamery o kącie widzenia 75,7° oraz zasięgu aż 300 metrów. Co ważne, ich szczelna obudowa sprawia, że są one odporne na warunki atmosferyczne. Na ich poprawne działanie nie wpłynie ani wielki upał, ani intensywny deszcz, ani siarczysty mróz, dlatego będą pomagały Ci dbać o bezpieczeństwo przez cały rok.
Stała obserwacja
Miej wszystko pod stałą kontrolą! Dzięki łączności Wi-Fi zestaw monitoringu zewnętrznego Connect C200 może być sterowany z poziomu smartfona za pomocą aplikacji TuyaSmart. Niezależnie gdzie jesteś, możesz w każdym momencie sprawdzić, co dzieje się na Twoim podwórku.
Wyraźna kontrola
Kruger&Matz Connect C200 jest idealny dla osób, które od swojego systemu do monitoringu wymagają naprawdę wysokiej jakości nagrań! Zestaw ten umożliwia nagrywanie z prędkością 20 klatek na sekundę w rozdzielczości Full HD. Gwarantuje to szczegółowy obraz, nawet w trudnych warunkach atmosferycznych.
Automatyczna ochrona
Reaguj szybko na każde zagrożenie! Dzięki detektorowi ruchu na Twój telefon przyjdzie powiadomienie, gdy na podwórku pojawi się intruz. Co więcej, system monitoringu Kruger&Matz posiada funkcję umożliwiającą automatyczne rozpoczęcie nagrywania w chwili wykrycia ruchu.
Czujność po zmroku
Zmiana pory dnia nie musi oznacza zmiany jakości nagrań! Kamery monitoringu Kruger&Matz zostały wyposażone w diody IR o zasięgu do 30 metrów, które zadbają o to, aby obraz nagrywany po zmroku był nadal wyraźny.
Bezprzewodowa łączność
Bezdyskusyjnie jedną z najważniejszych zalet tego zestawu monitoringu IP jest wykorzystanie komunikacji Wi-Fi. Kamery parują się z rejestratorem automatycznie i bezprzewodowo. Jeśli cenisz sobie wygodne i praktyczne rozwiązania, Connect C200 jest właśnie dla Ciebie!
Dobra pamięć
Znajdujący się w zestawie rejestrator wspiera dyski o maksymalnej pojemności 4 TB. Taka pojemność wystarczy Ci nawet na miesiąc nagrań w wysokiej jakości Full HD. Dzięki systemowi monitoringu Kruger&Matz Connect C200 nic nie umknie Twojej uwadze.
Specification
NVR SPECIFICATION
Operating system
Linux
Video output
1080p
Communication protocols
TCP/IP, HTTP, DHCP, UDP, RTP, RTSP, FTP, NTP, P2P
Maximum disc capacity
4 TB
Antennas
2 x 5 dB
Ports
VGA, HDMI, RJ-45, 2x USB
Working temperature
10°C ~ 55°C
Power consumption
3 W (without a hard drive)
Power supply
12 V / 2 A
Working humidity
10% ~ 90%
Dimensions
258 x 230 x 41 mm
Weight
605 g
CAMERA SPECIFICATION
Control app
Tuya Smart app
Range
Up to 300 m
Wi-Fi communication
2,4 GHz
Sensor
CMOS
Lens
3,6 mm
Resolution
2 Mpx (1080p)
Framerate
20 FPS
Viewing angle
75,7°
Compression
H.265
IR diodes range
30 m
Charger
12 V / 1 A
Protection class
IP66
Working temperature
-30°C ~ 50°C
Working humidity
0% ~ 90%
Dimensions
172 x 61 x 61 mm
Weight
313 g
MAIN FUNCTIONS
Recording after motion detection, scheduled recordings, motion and face detection, simultaneous preview from 4 cameras , automatic pairing with cameras
IN SET
zakladka_1
SERWIS DOOR-TO-DOOR - 2 lata gwarancji
Masz problem ze sprzętem Kruger&Matz?
W dogodnym dla Ciebie terminie na nasz koszt wyślemy kuriera po Twoje urządzenie.
Gdy proces reklamacji się zakończy, otrzymasz wiadomość kiedy kurier dostarczy naprawiony sprzęt.
Potrzebujesz więcej informacji? Napisz do nas na [email protected] lub zadzwoń: 25 685 00 88. Nasza infolinia jest do Twojej dyspozycji od poniedziałku do piątku w godzinach 8-16.
Dlaczego Krüger&Matz?
zakladka_3
zakladka_3_tresc
Gdzie kupić?
Znajdź najbliższy sklep
Wpisz kod pocztowy, adres lub miasto, aby znaleźć sklep:
Promień:
lub:
Shipping costs

The price does not include any possible payment costs