Hi-Fi system KM 1961
Tube preamplifier
Output power: 2x 30 W
Bluetooth 5.0 + NFC
Digital radio DAB+
CD disc player
USB, audio input, headphones output
Charging external devices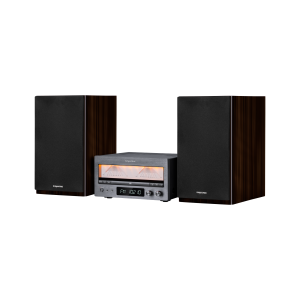 HiFi system KM1995
Class A amplifier
FM / DAB+ radio
Disc player: CD, CD-R, CD-RW
Power: 2 x 75 W
USB, audio input, headphone output
Mini stereo - stereo

sound

in a small

size
We will make the sound in your home will not the same as before, and your favorite songs will captivate you with their completely new version. How it's possible? Each mini-system in the Kruger&Matz offer is a unique work of art and a treasure for true lovers of clear, expressive sound. Thanks to this set, you can create a space in your home or apartment full of unusual sounds, expressive bass, and comfortable solutions based on modern technology. 
Which

mini-

tower

should

you

choose

?

What

parameters

should

you

pay

attention

to?
The mini-system, also called the micro-system by some, is an alternative to audio sets. What distinguishes it from a traditional stereo system is its compact size. What parameters should be taken into account when choosing a mini-tower? 
Central unit -

preamplifier
Kruger&Matz offers two types of preamplifiers - transistor and tube. In a nutshell, transistor units are characterized by sharp sound and timbre at a natural temperature. The tube preamplifier is characterized by saturation and a more flowery sound. 
You can read more about this in the guide: Lampa czy tranzystor – porównanie miniwież>> Lamp or transistor - mini-tower comparison >> 
Connectivity - mini-

towers

with Bluetooth, wifi, NFC, AUX, DAB +, HDMI
The Kruger&Matz mini towers offer the following communication channels: 
Mini-tower with Bluetooth and NFC
Currently, CDs are increasingly being replaced by online software and music played directly from the Internet. Such a solution provides immediate access to the enormous amount of music available on the Internet at the expense of the quality of the recording. To meet the requirements, the audio units in the Kruger&Matz offer, apart from the classic solution of a mini tower with a CD and remote control, enable connection with mobile devices, e.g., phones or tablets. 
Mini-tower with internet radio
 Thanks to wireless communication systems, the mini-system can become an internet radio tower with unlimited range. 
AUX
wired
connectivity
 AUX is a standard wired port that allows you to connect the tower with a TV or any other device with a Jack / Mini Jack output. 
DAB + mini-tower
It allows you to broadcast radio programs in digital form, ensuring clear sound without interference. 
Mini-tower with DVD and HDMI connection
 Thanks to this functionality, the tower can become a home cinema center - it eliminates the need for an independent DVD player. The mini DVD tower plays the signal and sends it to the TV via HDMI, allows you to play movies directly from the tower and allows you to connect the tower to the TV via the HDMI port. 
Mini-

tower

with

speakers
Mini tower systems are devices with deep sound in a wide conduction band. The speakers allow you to obtain a clear color of sound both in low and high tones. 
Design
Kruger&Matz pays special attention to the design of audio equipment and the possibility of using devices as an important element of the arrangement of rooms in which they are located. Mini towers with remote control can also be controlled using mobile devices. Mini-towers are offered with various finishes, e.g., brushed aluminum. An interesting solution is also a tower that allows you to hang it on the wall. 
Cheap

mini-

tower

up

to PLN 400 -

will

it

meet

basic

expectations

?
The cheapest product in the Kruger&Matz offer costs PLN 400. At such a low price, the equipment offers interesting functionality - instead of a CD player, it offers Bluetooth wireless connectivity. Mini towers meets the expectations above all of the young generation, used to music played from mobile devices. 
 What mini tower is up to PLN 1000? Check out our ranking of towers at prices up to PLN 400, 600, 1000 >> 
 

What

do

users

think

about

mini-

towers

?

Options
Kruger&Matz mini-towers and audio equipment are widely described on the Internet and you can find many positive opinions about them from satisfied customers. Positive opinions about mini-systems most often refer to a unique solution with tube preamplifiers. Users also pay impeccable attention to the sound quality, appreciate the value for money and the non-obvious design of the devices.