Connect C30 external Wi-Fi camera
Connect C30 external Wi-Fi camera
Resolution: 2 Mpx (1080p, 720p)
Framerate: 20 fps
Horizontal adjustment: 350°
Vertical adjustment: 110°
Night vision ith IR diode
Control app: Tuya Smart
Motion detection, zoom, PTZ, alarm function, microphone and speaker
Dispatched within:
24 godziny
Delivery:
The price does not include any possible payment costs
product unavailable

add to wish list
Description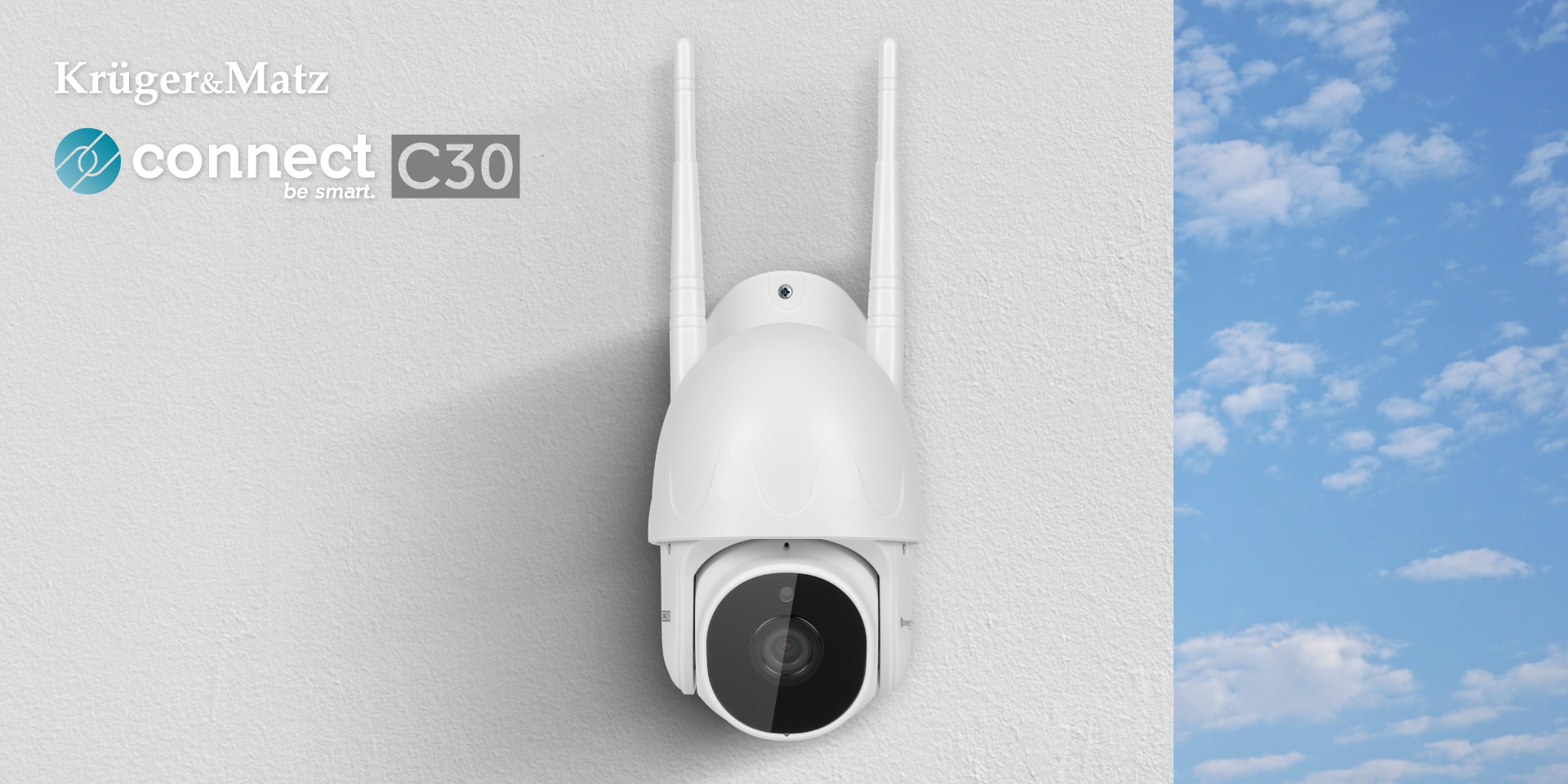 Kamera Wi-Fi zewnętrzna Kruger&Matz Connect C30
Zadbaj o bezpieczeństwo nie tylko w Twoim mieszkaniu, ale także na podwórku. Kamera zewnętrzna Wi-Fi Kruger&Matz Connect C30 pozwala monitorować co dzieje się przed Twoim domem przez 24 godziny na dobę. Tym nowoczesnym urządzeniem możesz sterować z poziomu smartfona, dlatego niezależnie gdzie się znajdujesz zawsze panujesz nad sytuacją. Sam sprawdź jak praktyczne i wygodne jest takie rozwiązanie!
Na każdą pogodę
Przede wszystkim na uwagę zasługuje wytrzymała obudowa, zgodna z klasą odporności IP66. Kamera monitorująca Connect C30 jest wodoodporna i pyłoodporna. Co więcej, nie straszne jej są upały, jak też przymrozki. Miej kontrolę nad tym, co dzieje się na Twoim podwórku o każdej porze roku!
Inteligentny pomocnik
Bezprzewodowa kamera Kruger&Matz Connect C30 to doskonałe doposażenie Twojego sprzętu smart home. Dzięki łączności Wi-Fi urządzenie może być sterowane aplikacją TuyaSmart, dlatego, niezależnie gdzie jesteś, możesz w każdym momencie sprawdzić co dzieje się na Twoim podwórku.
Dbałość o detale
Kamera z Wi-Fi Connect C30 to urządzenie idealne dla osób, które chcą dostrzec każdy detal. Model ten umożliwia nagrywanie z prędkością 20 klatek na sekundę w rozdzielczości Full HD, gwarantującej bardzo szczegółowy obraz.
Automatyczna ochrona
Szeroka funkcjonalność kamery IP Kruger&Matz sprawia, że nic, co dzieje się na Twoim podwórku, nie umknie Twojej uwadze. Urządzenie wykrywa ruch i wysyła powiadomienie na Twój smartfon. Pozwoli to na szybkie reagowanie na zagrożenie.
Bezpieczeństwo po zmroku
Kamera do monitoringu Kruger&Matz Connect C30 to nie tylko wysoka jakość nagrań w ciągu dnia, ale także w nocy. Wszystko dzięki wykorzystaniu diod IR, o maksymalnym zasięgu 10 metrów, które zapewniają wyraźny obraz nawet po zmroku.
Dwustronna komunikacja
Dużym atutem kamery monitoringu jest możliwość dwukierunkowej komunikacji audio. Dzięki wbudowanym mikrofonowi i głośnikowi urządzenie nie tylko umożliwi Ci bierne obserwowanie obrazu, ale może posłużyć też jako videodomofon.
By zobaczyć więcej
Obrotowa kamera Kruger&Matz została skonstruowana tak, abyś mógł dostosować ją do swoich potrzeb. Urządzenie posiada możliwość regulacji kąta widzenia – 350° w poziomie i 110° w pionie – co ograniczy do minimum ilość martwych punktów.
Pod stałą obserwacją
Connect C30 zostało wyposażone w czytnik kart SD o maksymalnej pojemności 128 GB, co w połączeniu z zastosowaną kompresją H.264, znacznie zmniejsza objętość zajmowanego miejsca na dysku. Co więcej, urządzenie umożliwia także zapisywanie nagrywanego materiału w chmurze.
Specification
MAIN PARAMETERS
Sensor
CMOS
Resolution
2 Mpx (1080p, 720p)
Framerate
20 FPS
Compression
H.264
Horizontal adjustment
350°
Vertical adjustment
110°
IR diodes range
10 m
Control app
Tuya app
Wi-Fi communication
802.11 b/g/n (2,4 GHz)
Max. microSD card capacity
128 GB
ONVIF support
Yes
MAIN FUNCTIONS
Wireless camera management, works with Google Home and Amazon Alexa, motion detection, alarm function, built-in microphone and speaker, night vision with IR diodes
POWER SUPPLY
AC adapter
12 V, 1 A / PoE
Power consumption
< 5 W
PHYSICAL PARAMETERS
Dimensions
91 x 134 x 240 mm
Weight
347 g
Color
White
Protection class
IP66
Working temperature
-10°C ~ 55°C
Working humidity
10% ~ 80%
SET INCLUDES
AC charger (80 cm cable lenght), mounting studs, screws, screwdriver
zakladka_1
SERWIS DOOR-TO-DOOR - 2 lata gwarancji
Masz problem ze sprzętem Kruger&Matz?
W dogodnym dla Ciebie terminie na nasz koszt wyślemy kuriera po Twoje urządzenie.
Gdy proces reklamacji się zakończy, otrzymasz wiadomość kiedy kurier dostarczy naprawiony sprzęt.
Potrzebujesz więcej informacji? Napisz do nas na [email protected] lub zadzwoń: 25 685 00 88. Nasza infolinia jest do Twojej dyspozycji od poniedziałku do piątku w godzinach 8-16.
Dlaczego Krüger&Matz?
zakladka_3
zakladka_3_tresc
Support
No files to download
Gdzie kupić?
Znajdź najbliższy sklep
Wpisz kod pocztowy, adres lub miasto, aby znaleźć sklep:
Promień:
lub:
Shipping costs

The price does not include any possible payment costs