Connect C40 external Wi-Fi camera
Connect C40 external Wi-Fi camera
Resolution: 3 Mpx (1080p, 720p)
Framerate: 20 fps
Night vision with IR diodes
Control App: Tuya Smart
Motion detection, zoom, alarm function, microphone and speaker
RJ-45 port 
product unavailable

add to wish list
Description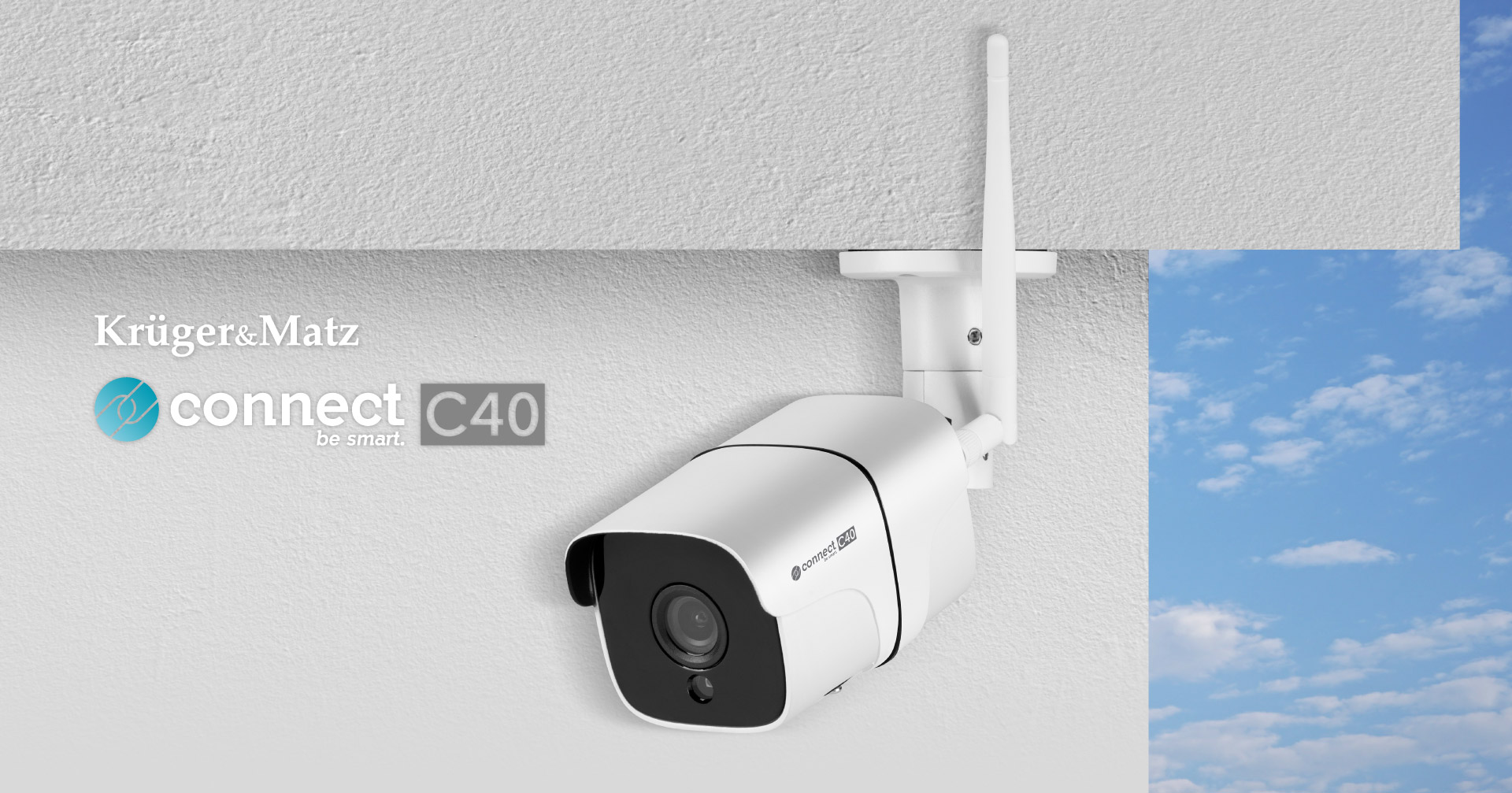 Kamera zewnętrzna Wi-Fi Kruger&Matz Connect C40
Dbanie o bezpieczeństwo nie powinno ograniczać się do zabezpieczenia domu. Oprócz kamer wewnętrznych i systemu alarmowego warto także zaopatrzyć się w kamerę zewnętrzną, która sprawi, że będziesz miał stały podgląd do tego, co dzieje się na Twoim podwórku. Tym nowoczesnym urządzeniem możesz sterować z poziomu smartfona, dlatego niezależnie gdzie się znajdujesz zawsze panujesz nad sytuacją. Sam sprawdź jak praktyczne i wygodne jest takie rozwiązanie!
Na każdą pogodę
Kamery zewnętrzne musi charakteryzować wysoka odporność na warunki atmosferyczne. Model Connect C40 posiada wytrzymałą obudowę, zgodną z klasą odporności IP66, co oznacza, że jest ona wodoodporna i pyłoodporna. Co więcej, nie straszne są jej także wahania temperatury.
Smart home
Lubisz rozwiązania smart? Zewnętrzna kamera bezprzewodowa Wi-Fi Connect C40 jest właśnie dla Ciebie. Dzięki łączności Wi-Fi urządzenie może być sterowane aplikacją TuyaSmart, dlatego, niezależnie gdzie jesteś, możesz w każdym momencie sprawdzić, co dzieje się na Twoim podwórku.
Dbałość o detale
Kamera z Wi-Fi Connect C40 to urządzenie idealne dla osób, które chcą dostrzec każdy detal. Model ten umożliwia nagrywanie z prędkością 20 klatek na sekundę w rozdzielczości Full HD, gwarantującej bardzo szczegółowy obraz.
Automatyczna ochrona
Kamera IP do monitoringu Kruger&Matz Connect C40 to niezwykle funkcjonalne urządzenie, które zwiększy poczucie bezpieczeństwa. Dużym plusem jest czujnik ruchu. Po wykryciu intruza otrzymasz powiadomienie na telefon, co pozwoli to na szybkie reagowanie na zagrożenie.
Bezpieczeństwo po zmroku
Jaka kamera do monitoringu zewnętrznego będzie najlepsza? Oczywiście taka, która zapewni wysoką jakość nagrań nie tylko w ciągu dnia, ale także w nocy. Connect C40 została wyposażona w diody IR, o maksymalnym zasięgu 15 metrów, które zapewnią wyraźny obraz także po zmroku.
Dwustronna komunikacja
Co jeszcze powinna mieć zewnętrzna kamera na Wi-Fi? Dużym udogodnieniem są wbudowane mikrofon i głośnik, umożliwiające dwukierunkową komunikację. Takie rozwiązanie sprawia, że Twoja zewnętrzna kamera zastąpi Ci videodomofon.
Większe możliwości
Masz problem z łącznością Wi-Fi i zastanawiasz się jak podłączyć kamerę zewnętrzną do routera w inny sposób? Model Connect C40 został wyposażony w złącze Ethernet RJ-45, umożliwiające tradycyjne połączenie za pomocą kabla.
Pod stałą obserwacją
Kamera tubowa do monitoringu zewnętrznego Connect C40 nie tylko daje możliwość bieżącego podglądu, ale także pozwala na zapis nagrywanego materiału. W tym celu możesz wykorzystać kartę pamięci bądź zapisać nagrania w chmurze.
Specification
MAIN PARAMETERS
Sensor
CMOS
Resolution
3 Mpx (1080p, 720p)
Framerate
20 FPS
Compression
H.265
IR diodes range
15 m
Control app
Tuya app
Wi-Fi communication
802.11 b/g/n (2,4 GHz)
Max. microSD card capacity
128 GB
MAIN FUNCTIONS
Wireless camera management, motion detection, zoom, alarm function, built-in microphone and speaker, night vision with IR diodes
POWER SUPPLY
Power consumption
<6 W
PHYSICAL PARAMETERS
Dimensions
192 x 58 x 58 mm
Weight
335 g
Color
White
Protection class
IP66
Working temperature
-10°C ~ 50°C
Working humidity
10% ~ 80%
SET INCLUDES
AC charger (80 cm cable lenght), mounting studs, screws, screwdriver
zakladka_1
SERWIS DOOR-TO-DOOR - 2 lata gwarancji
Masz problem ze sprzętem Kruger&Matz?
W dogodnym dla Ciebie terminie na nasz koszt wyślemy kuriera po Twoje urządzenie.
Gdy proces reklamacji się zakończy, otrzymasz wiadomość kiedy kurier dostarczy naprawiony sprzęt.
Potrzebujesz więcej informacji? Napisz do nas na [email protected] lub zadzwoń: 25 685 00 88. Nasza infolinia jest do Twojej dyspozycji od poniedziałku do piątku w godzinach 8-16.
Dlaczego Krüger&Matz?
zakladka_3
zakladka_3_tresc
Gdzie kupić?
Znajdź najbliższy sklep
Wpisz kod pocztowy, adres lub miasto, aby znaleźć sklep:
Promień:
lub: