Connect C70 external Wi-Fi camera
Connect C70 external Wi-Fi camera
Resolution: 3 Mpx (2048 x 1536 px)
Framerate: 25 fps
Horizontal viewing angle: 180°
Vertical viewing angle: 180°
Night vision with IR diodes
Control App: Tuya Smart
Motion detection, zoom, alarm function, microphone and speaker
Dispatched within:
24 godziny
Delivery:
The price does not include any possible payment costs
product unavailable

add to wish list
Description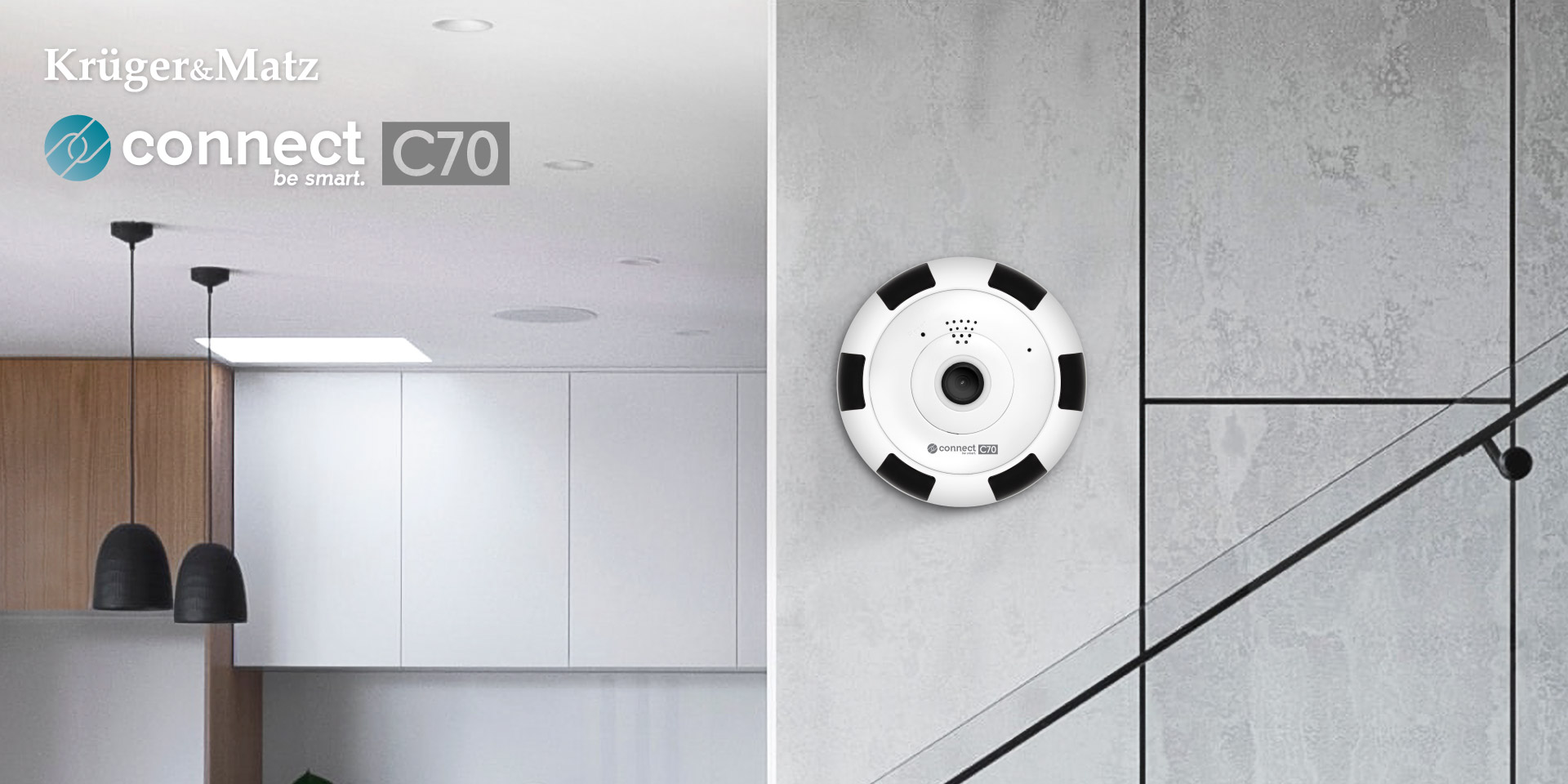 Kamera Wi-Fi Kruger&Matz Connect C70
Potrzebujesz szybkiego podglądu tego, co dzieje się w Twoim domu? Skorzystaj z inteligentnych rozwiązań jakie oferuje Kruger&Matz. W serii Connect znajdziesz kamery wifi do domu, dzięki którym gdziekolwiek jesteś możesz zdalnie kontrolować swoją posesję.
Inteligentna kamera do domu
Nie musisz montować zaawansowanego systemu monitoringu, by mieć podgląd na swój dom. Do prawidłowego działania kamery Connect C70 wystarczy domowa sieć Wi-Fi oraz dostępna w sklepie Play i iOS dedykowana aplikacja TuyaSmart, która pomoże Ci zarządzać wszystkimi kamerami w domu. W aplikacji możesz także udostępnić obsługę kamer pozostałym domownikom.
Doskonały obraz
Kruger&Matz Connect C70 pozwoli Ci mieć podgląd dowolnego pomieszczenia w Twoim domu. Doskonałą jakość obrazu gwarantuje obiektyw 3 MPx umożliwiający emisję obrazu w rozdzielczości 2048 x 1536 px.
Kamera z alarmem
Dla większego bezpieczeństwa kamera Connect C70 wyposażona została w czujnik ruchu. Dlatego, gdy w wyznaczonych przez Ciebie godzinach urządzenie wykryje jakiekolwiek zmiany w Twoim domu, aplikacja Tuya poinformuje Cię o tym.
Kamera z night vision
Inteligentne kamery do domu z WiFi powinny chronić Cię o każdej porze. Dlatego Connect C70 wyposażona została w diody IR, które pozwalają zachować doskonałą jakość obrazu w zasięgu do 15 m także nocą.
Wbudowany głośnik i mikrofon
Kolejną z zalet kamery WiFi Kruger&Matz jest możliwość dwukierunkowej komunikacji. Dzięki tej funkcji nie tylko obserwujesz, co dzieje się w Twoim domu, ale możesz także komunikować się z domownikami.
Kamera rybie oko
KM2211 to tzw. kamera rybie oko, która obejmuje szeroki kąt widzenia 360 stopni. Zatem wystarczy, że zainstalujesz urządzenie na suficie w centralnym punkcie pokoju czy biura, a będziesz mieć pod kontrolą całą wybraną przez siebie przestrzeń.
Przechowywanie danych
Kamera Kruger&Matz Connnect C70 nie tylko pozwala Ci na podgląd tego, co dzieje się w Twoim domu. Dzięki obsłudze kart Micro SD o pojemności do 128 GB kamera zapisuje obraz w pętli, dzięki czemu możesz powrócić to wybranego nagrania z danego okresu.
Specification
MAIN PARAMETERS
Sensor
CMOS
Resolution
3 Mpx (2048 x 1536 px)
Framerate
25 FPS
Compression
H.264
Horizontal viewing angle
180°
Vertical viewing angle
180°
IR diodes range
15 m
Control app
Tuya app
Wi-Fi communication
802.11 b/g/n (2,4 GHz)
Max. microSD card capacity
128 GB
MAIN FUNCTIONS
Wireless camera management, motion detection, zoom, alarm function, built-in microphone and speaker, night vision with IR diodes
POWER SUPPLY
AC adapter
microUSB (5 V / 1,5 A)
Power consumption
<6 W
PHYSICAL PARAMETERS
Dimensions
90 x 90 x 37 mm
Weight
69 g
Color
White
Working temperature
-10°C ~ 50°C
Working humidity
10% ~ 80%
SET INCLUDES
AC charger (80 cm cable lenght), mounting studs, screws
zakladka_1
SERWIS DOOR-TO-DOOR - 2 lata gwarancji
Masz problem ze sprzętem Kruger&Matz?
W dogodnym dla Ciebie terminie na nasz koszt wyślemy kuriera po Twoje urządzenie.
Gdy proces reklamacji się zakończy, otrzymasz wiadomość kiedy kurier dostarczy naprawiony sprzęt.
Potrzebujesz więcej informacji? Napisz do nas na [email protected] lub zadzwoń: 25 685 00 88. Nasza infolinia jest do Twojej dyspozycji od poniedziałku do piątku w godzinach 8-16.
Dlaczego Krüger&Matz?
zakladka_3
zakladka_3_tresc
Gdzie kupić?
Znajdź najbliższy sklep
Wpisz kod pocztowy, adres lub miasto, aby znaleźć sklep:
Promień:
lub:
Shipping costs

The price does not include any possible payment costs