Ghost 2.1 SE soundbar
Ghost 2.1 SE soundbar
Bluetooth range: up to 8 m
Jack 3,5 mm, optical input
Output power: 2x 15 W (soundbar) + 30 W (subwoofer)
Speakers: 2x 2" + 4"
Mounting on stands, horizontally on a wall
product unavailable

add to wish list
Description
Poczuj różnicę
Chcesz poprawić jakość dźwięku Twojego komputera lub telewizora, ale nie potrzebujesz pełnego zestawu kina domowego? Doskonałym rozwiązaniem będzie soundbar Kruger&Matz Ghost 2.1 SE, który wypełni Twój pokój mocnym, głębokim i czystym brzmieniem. Oglądaj filmy, słuchaj muzyki i poczuj zupełnie nowy wymiar dźwięku.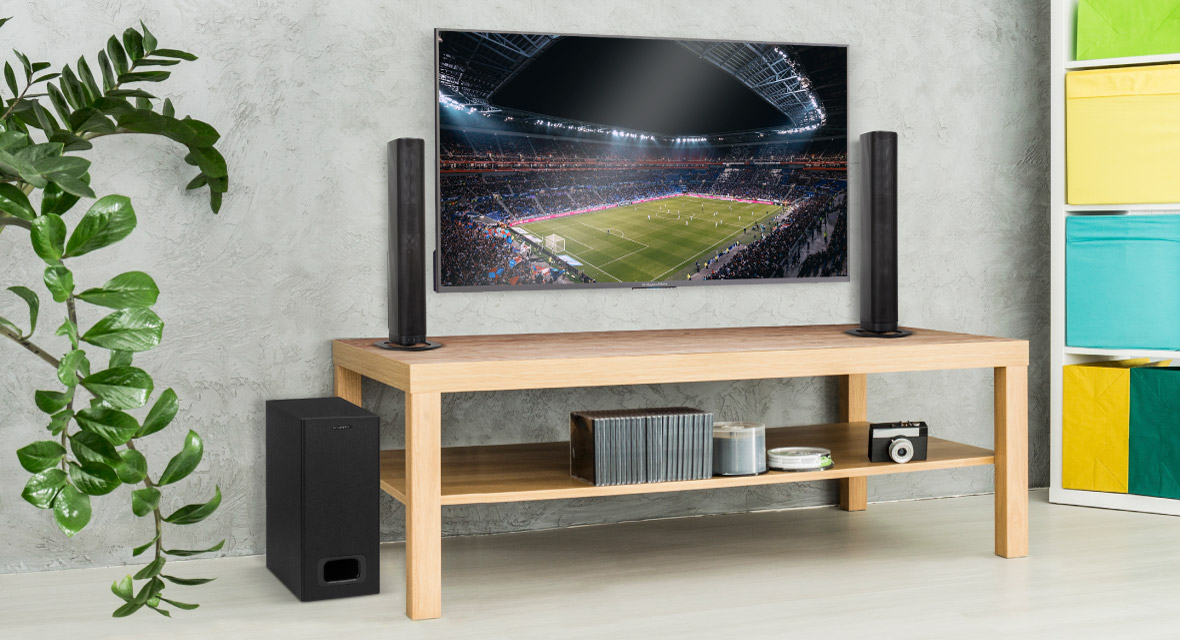 Na kilka sposobów
Niezależnie od wystroju Twojego salonu, bez problemu znajdziesz miejsce dla soundbara Ghost 2.1 SE. Oprócz możliwości postawienia urządzenia na półce lub montażu na ścianie, Ghost może stać się zestawem głośników stereo, które ustawisz na stylowych podstawkach.
Mocne brzmienie
Sam soundbar to dla Ciebie za mało i potrzebujesz dodatkowej dawki basów? Zestaw Kruger&Matz Ghost 2.1 został dodatkowo wyposażony w subwoofer, który zapewni jeszcze bardziej dynamiczne i pełne brzmienie.
Wiele możliwości
Soundbar Ghost można połączyć z urządzeniami zewnętrznymi zarówno przewodowo, poprzez wejścia AUX oraz optyczne, jak też bezprzewodowo, używając łączności Bluetooth. Teraz możesz cieszyć się muzyką zapisaną na tablecie i smartfonie w wysokiej jakości.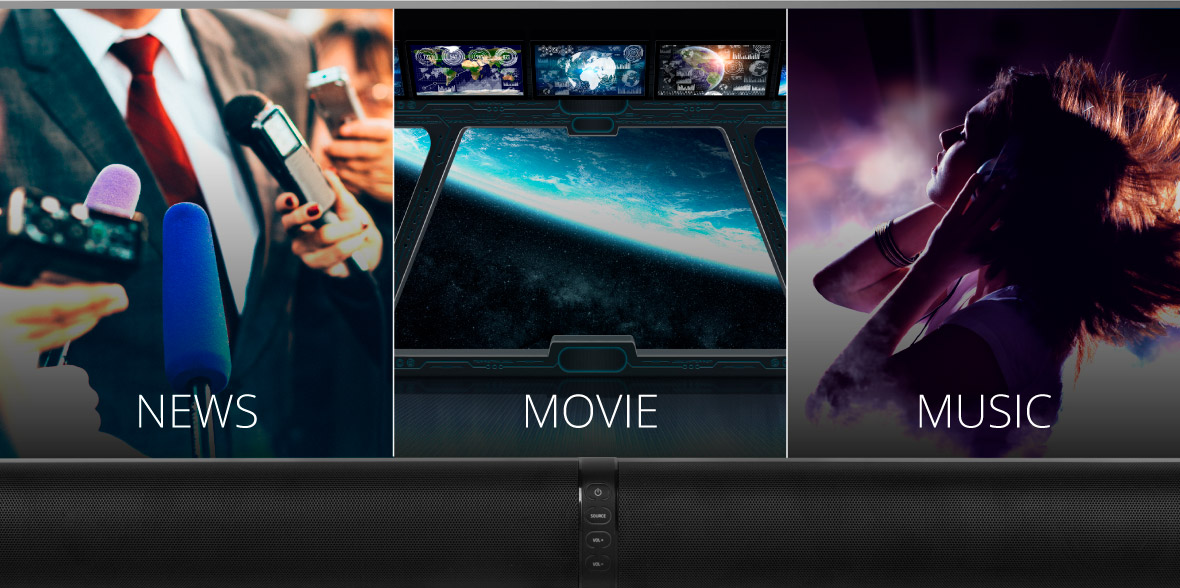 Zdecyduj sam
Soundbar Ghost został wyposażony w funkcję equalizera, która pozwoli na wybór jednego z trzech trybów. Sam zdecyduj czy potrzebujesz krystalicznie czystego dźwięku prowadzonych dialogów, wzmocnienia efektów filmowych, czy głębokiego i mocnego brzmienia podczas słuchania muzyki.
Specification
SOUNDBAR
Bluetooth
3.0
Bluetooth range
Up to 8 m
Speaker size
2x 2"
Frequency response
150 Hz – 20 kHz
Output power
2x 15 W
THD
1% (1 kHz, 1 W)
Audio input sensitivity
700 mV
Impedance
2x 4 Ohm
S/N
70 dB
I/O
I/O: Jack 3,5 mm, optical input, subwoofer output, power supply cord socket, (USB service port)
Supported formats
A2DP, AVRCP
Frequency bands
2402 ~ 2480 MHz
Max. power transmitted
7 dBm
Power consumption
30 W
Power consumption in standby
<0,5 W
Mounting
On stands, horizontally, on a wall
Power supply
220-240 V ~50/60 Hz
Remote control range
Up to 6 m
Dimensions
800 x 62 x 94 mm (soundbar), 122 x 150 x 417 mm (soundbar on stands)
SUBWOOFER
Speaker size
4"
Output power
30 W
Frequency response
45 Hz – 150 Hz
Impedance
6 Ohm
Dimensions
150 x 320 x 220 mm
SET INCLUDES
Main unit, subwoofer, stands, remote control, AC power cord, mounting accessories, 3,5 mm-3,5 mm audio cable, rubber feet
zakladka_1
SERWIS DOOR-TO-DOOR - 2 lata gwarancji
Masz problem ze sprzętem Kruger&Matz?
W dogodnym dla Ciebie terminie na nasz koszt wyślemy kuriera po Twoje urządzenie.
Gdy proces reklamacji się zakończy, otrzymasz wiadomość kiedy kurier dostarczy naprawiony sprzęt.
Potrzebujesz więcej informacji? Napisz do nas na [email protected] lub zadzwoń: 25 685 00 88. Nasza infolinia jest do Twojej dyspozycji od poniedziałku do piątku w godzinach 8-16.
Dlaczego Krüger&Matz?
zakladka_3
zakladka_3_tresc
Gdzie kupić?
Znajdź najbliższy sklep
Wpisz kod pocztowy, adres lub miasto, aby znaleźć sklep:
Promień:
lub: