Gravity phone holder
Gravity phone holder
Minimal phone width: 59 mm
Maximum phone width: 82 mm
Tilt angle adjustment and rotary construction
Mounting: to a vent
product unavailable

add to wish list
Description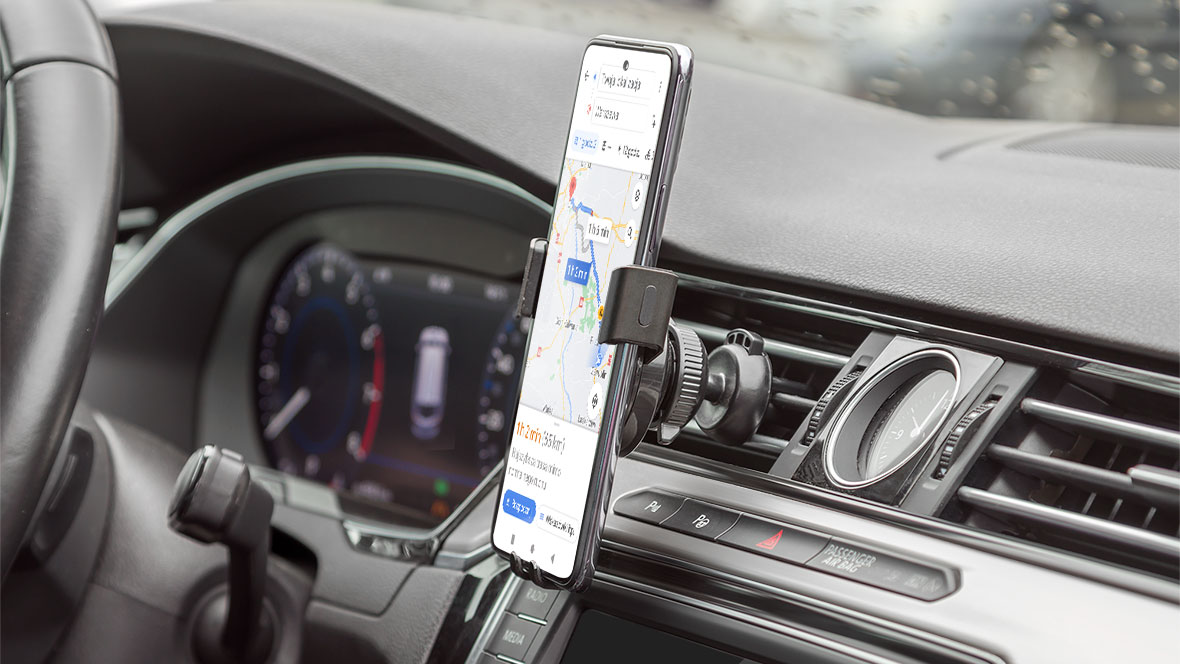 Uchwyt grawitacyjny do kratki nawiewu Kruger&Matz
Montowany do kratki nawiewu uchwyt grawitacyjny do telefonu Kruger&Matz to niezwykle proste w montażu oraz praktyczne akcesorium, które z pewnością przyda Ci się w Twoim aucie, zwłaszcza jeśli wyruszasz w nieznaną trasę i cały czas korzystasz z nawigacji. Grawitacyjny uchwyt samochodowy został zaprojektowany tak, abyś nie musiał własnoręcznie dociskać bocznych ramion. Funkcja automatycznej blokady sprawia, że wystarczy włożyć telefon w uchwyt, a zamkną się one samoczynnie.

Do atutów akcesorium z pewnością zaliczyć można regulację kąta nachylenia i możliwość obrotu uchwytu o 360°. Dzięki temu uda Ci się dostosować ułożenie telefonu do Twoich potrzeb. Co więcej, dolny uchwyt posiada wcięcie, które umożliwi podłączenie ładowarki. Takie rozwiązanie z pewnością zostanie docenione przez kierowców ruszających w długie trasy.

Grawitacyjny uchwyt na telefon do samochodu Kruger&Matz jest kompatybilny z urządzeniami o szerokości 59-82 mm.
Specification
| | |
| --- | --- |
| Type | Car |
| Mounting | To a vent |
| Maximum phone width | 82 mm |
| Minimal phone width | 59 mm |
| Maximum phone thickness | 10 mm |
| Weight | 58 g |
zakladka_1
SERWIS DOOR-TO-DOOR - 2 lata gwarancji
Masz problem ze sprzętem Kruger&Matz?
W dogodnym dla Ciebie terminie na nasz koszt wyślemy kuriera po Twoje urządzenie.
Gdy proces reklamacji się zakończy, otrzymasz wiadomość kiedy kurier dostarczy naprawiony sprzęt.
Potrzebujesz więcej informacji? Napisz do nas na [email protected] lub zadzwoń: 25 685 00 88. Nasza infolinia jest do Twojej dyspozycji od poniedziałku do piątku w godzinach 8-16.
Dlaczego Krüger&Matz?
zakladka_3
zakladka_3_tresc
Support
No files to download
Gdzie kupić?
Znajdź najbliższy sklep
Wpisz kod pocztowy, adres lub miasto, aby znaleźć sklep:
Promień:
lub: