HDMI cable Basic
HDMI cable Basic
Length 90 cm
HDMI plug <----> HDMI plug
Max. resolution 8K
Dispatched within:
24 godziny
Delivery:
The price does not include any possible payment costs
product unavailable

add to wish list
Description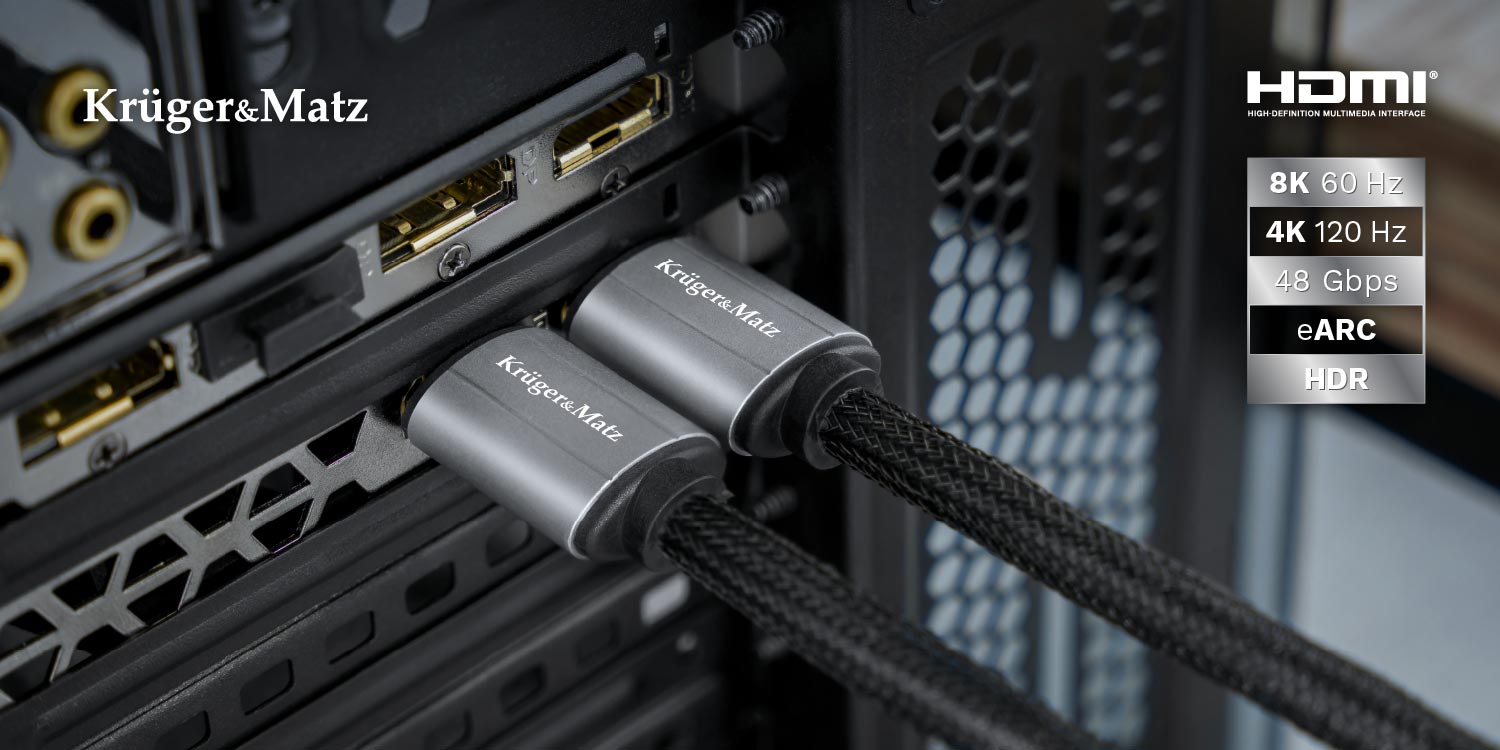 Nowy wymiar obrazu i dźwięku
Jeśli potrzebny jest Ci kabel HDMI wysokiej jakości, koniecznie sprawdź modele Kruger&Matz! Dzięki wykorzystaniu żył głównych wykonanych z miedzi OFC masz pewność, że cyfrowy transfer danych będzie odbywał się bez kompresji i jakichkolwiek strat jakości dźwięku czy obrazu. Kabel został wyposażony w dwa wtyki HDMI, które pozwolą Ci m.in. podłączyć dekoder telewizji cyfrowej czy konsolę do telewizora. Co istotne, przewód jest certyfikowany, a najważniejsze informacje o produkcie i jego producencie znajdziesz po zeskanowaniu kodu QR.
Zobacz różnicę
Co charakteryzuje kabel HDMI 2.1? Jego podstawową zaletą jest przepustowość sięgająca nawet 48 Gb/s, co w porównaniu z 18 Gb/s w standardzie 2.0 jest ogromną zmianą! Oznacza to znacznie lepszą jakość wyświetlanego obrazu – nawet w wysokich rozdzielczościach.
Dbałość o detale
Teraz dostrzeżesz każdy szczegół! Przewód HDMI 2.1 Kruger&Matz umożliwia wyświetlanie obrazu w rozdzielczościach 8K przy 60 Hz oraz 4K przy 120 Hz. Przejdź na zupełnie inny poziom wrażeń podczas oglądania filmów i grania w gry na konsoli.
Dla miłośników muzyki
Zależy Ci na naprawdę dobrym brzmieniu? Kabel HDMI Kruger&Matz obsługuje ulepszony standard kanału zwrotnego – eARC. Zwiększona przepustowość oraz szybkość przesyłania danych zapewni jakość dźwięku, która zadowoli największych audiofilów.
Moc technologii
Poczuj moc nowych technologii! Złącze HDMI 2.1 obsługuje 3D Video umożliwiając oglądanie filmów w trójwymiarze. Co więcej, wspiera on także HDR, który zapewnia wyższy kontrast, szerszy zakres kolorów i lepszą ostrość.
Specification
| | |
| --- | --- |
| Type | HDMI |
| Connectors | HDMI plug <----> HDMI plug |
| Length | 90 cm |
| Max resolution | 8 K |
zakladka_1
SERWIS DOOR-TO-DOOR - 2 lata gwarancji
Masz problem ze sprzętem Kruger&Matz?
W dogodnym dla Ciebie terminie na nasz koszt wyślemy kuriera po Twoje urządzenie.
Gdy proces reklamacji się zakończy, otrzymasz wiadomość kiedy kurier dostarczy naprawiony sprzęt.
Potrzebujesz więcej informacji? Napisz do nas na [email protected] lub zadzwoń: 25 685 00 88. Nasza infolinia jest do Twojej dyspozycji od poniedziałku do piątku w godzinach 8-16.
Dlaczego Krüger&Matz?
zakladka_3
zakladka_3_tresc
Support
No files to download
Gdzie kupić?
Znajdź najbliższy sklep
Wpisz kod pocztowy, adres lub miasto, aby znaleźć sklep:
Promień:
lub:
Shipping costs

The price does not include any possible payment costs