Hi-Fi system KM 1961
Hi-Fi system KM 1961
Tube preamplifier
Output power: 2x 30 W
Bluetooth 5.0 + NFC
Digital radio DAB+
CD disc player
USB, audio input, headphones output
Charging external devices
Dispatched within:
24 godziny
Delivery:
The price does not include any possible payment costs
Price:
1 999,00 zł
1999.00
product unavailable

add to wish list
Description
Lśniące wzmocnienie
Lata lecą, a mini systemy stereo nadal są niezwykle popularne. Jedyne co się zmienia, to ich funkcjonalność, dlatego wybierz taki model, który sprosta Twoim oczekiwaniom. To, co wyróżnia wieżę audio Kruger&Matz KM 1961 to przedwzmacniacz lampowy, który zwiększa głębię, klarowność i dynamikę brzmienia.
Muzyczny streaming
Chcesz słuchać swojej ulubionej playlisty ze smartfona, jednak z dźwiękiem, jaki zapewnia sprzęt Hi-Fi? Mini wieża Kruger&Matz posiada moduł Bluetooth, który pozwoli Ci na bezprzewodowe odtwarzanie muzyki z telefonu. Co więcej, funkcja NFC umożliwi bardzo szybkie parowanie urządzeń.
Moc cyfryzacji
Lubisz słuchać audycji radiowych? Mini wieża Kruger&Matz KM 1961 daje Ci taką możliwość - w dodatku w bardzo wysokiej jakości dźwięku. Wszystko dzięki cyfrowemu radiu DAB+, które zapewni sygnał bez żadnych zakłóceń.
Bogata funkcjonalność
To jeszcze nie koniec możliwości. Wieża stereo posiada szereg udogodnień, które znacznie zwiększają jej funkcjonalność. Oprócz odtwarzacza CD, wejścia audio oraz wyjścia słuchawkowego urządzenie zostało wyposażone w port USB, który nie tylko pozwala na odtwarzanie muzyki, ale także umożliwia ładowanie urządzeń zewnętrznych.
Sterowanie na odległość 
Dobra mini wieża powinna zapewnić Ci także najwyższy poziom komfortu podczas użytkowania. Model KM 1961 jest sterowany pilotem, dlatego wszystkimi funkcjami możesz zarządzać nie wstając z kanapy. Zrelaksuj się na maksa!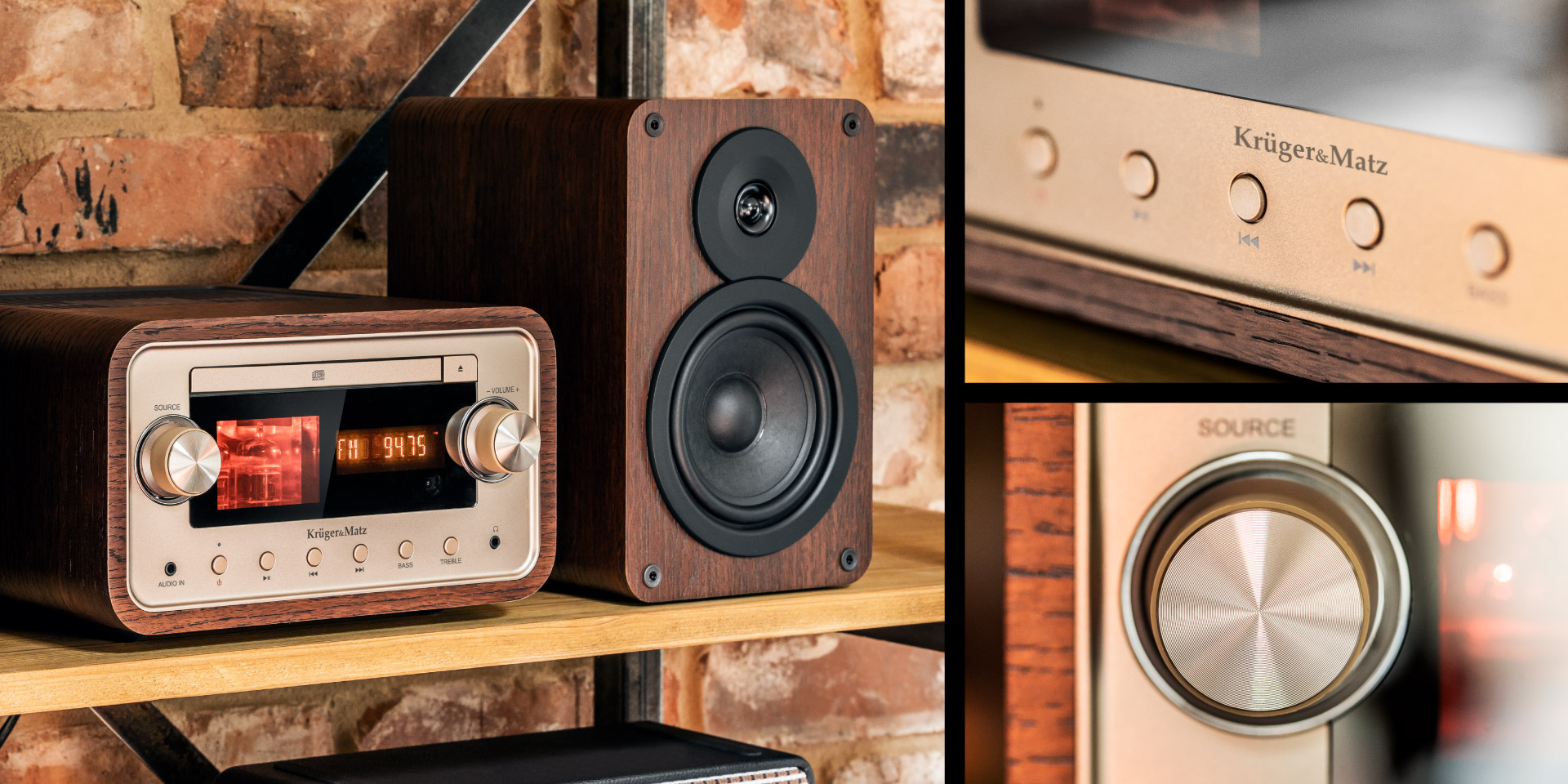 W dobrym stylu 
Domowy sprzęt audio musi zachwycać nie tylko wysoką jakością dźwięku, ale także wyszukanym wyglądem. Elegancja drewnianych kolumn i jednostki centralnej została doskonale podkreślona przez bursztynową poświatę lamp. Takie połączenie to idealne uzupełnienie Twojego salonu.
"Miniwieża KM1961 zaskakuje przede wszystkim brzmieniem: przyjemnie ocieplonym, a zarazem szczegółowym. Wyróżnia ją także wygląd w stylu retro i nowoczesne rozwiązania na czele ze wzmacniaczem impulsowym, technologią Bluetooth i tuneren DAB" - hifichoice.pl
Planujesz kupić mini wieżę KM1961? Sprawdź opinię ekipy z kanału GiT >>
Specification
CD player
Yes
DVD player
No
Remote control
Yes
Additional functions
Charging external devices
FM radio
Yes
FM radio frequency
87,5 - 108 MHz
DAB+ radio
Yes
DAB+ frequency range
174,928 - 239,200 MHz
Bluetooth
5.0
Bluetooth range
Up to 8 m
Bluetooth profiles
A2DP
Max. Bluetooth transmission power
4 dBm
NFC
Yes
NFC working frequency
13,56 MHz
USB port
Yes (5 V / 1 A)
AUX input
Jack 3,5 mm
Headphone output
Jack 3,5 mm
Tube preamplifier
Yes
Power consumption
35 W
Output power (RMS)
2x 30 W
THD
<1% (1 KHz, 1 W)
Speaker size
Woofer: 4,3" (110 mm), tweeter: 1,5" (38 mm)
Impedance
6 Ohm
Power supply
100 - 240 V~; 50 - 60 Hz
DIMENSIONS
Unit
250 x 276 x 146 mm
Speaker
160 x 202 x 244 mm
zakladka_1
SERWIS DOOR-TO-DOOR - 2 lata gwarancji
Masz problem ze sprzętem Kruger&Matz?
W dogodnym dla Ciebie terminie na nasz koszt wyślemy kuriera po Twoje urządzenie.
Gdy proces reklamacji się zakończy, otrzymasz wiadomość kiedy kurier dostarczy naprawiony sprzęt.
Potrzebujesz więcej informacji? Napisz do nas na [email protected] lub zadzwoń: 25 685 00 88. Nasza infolinia jest do Twojej dyspozycji od poniedziałku do piątku w godzinach 8-16.
Dlaczego Krüger&Matz?
zakladka_3
zakladka_3_tresc
Gdzie kupić?
Znajdź najbliższy sklep
Wpisz kod pocztowy, adres lub miasto, aby znaleźć sklep:
Promień:
lub:
Shipping costs

The price does not include any possible payment costs