HiFi A-class amplifier
HiFi A-class amplifier
Class A amplifier
FM / DAB+ radio
Bluetooth: 5.0
Disc player: CD, CD-R, CD-RW
Output power (RMS): 2 x 50 W
USB, AUX input, headphones output, optical input
Dispatched within:
24 godziny
Delivery:
The price does not include any possible payment costs
Price:
2 299,00 zł
2299.00
product unavailable

add to wish list
Description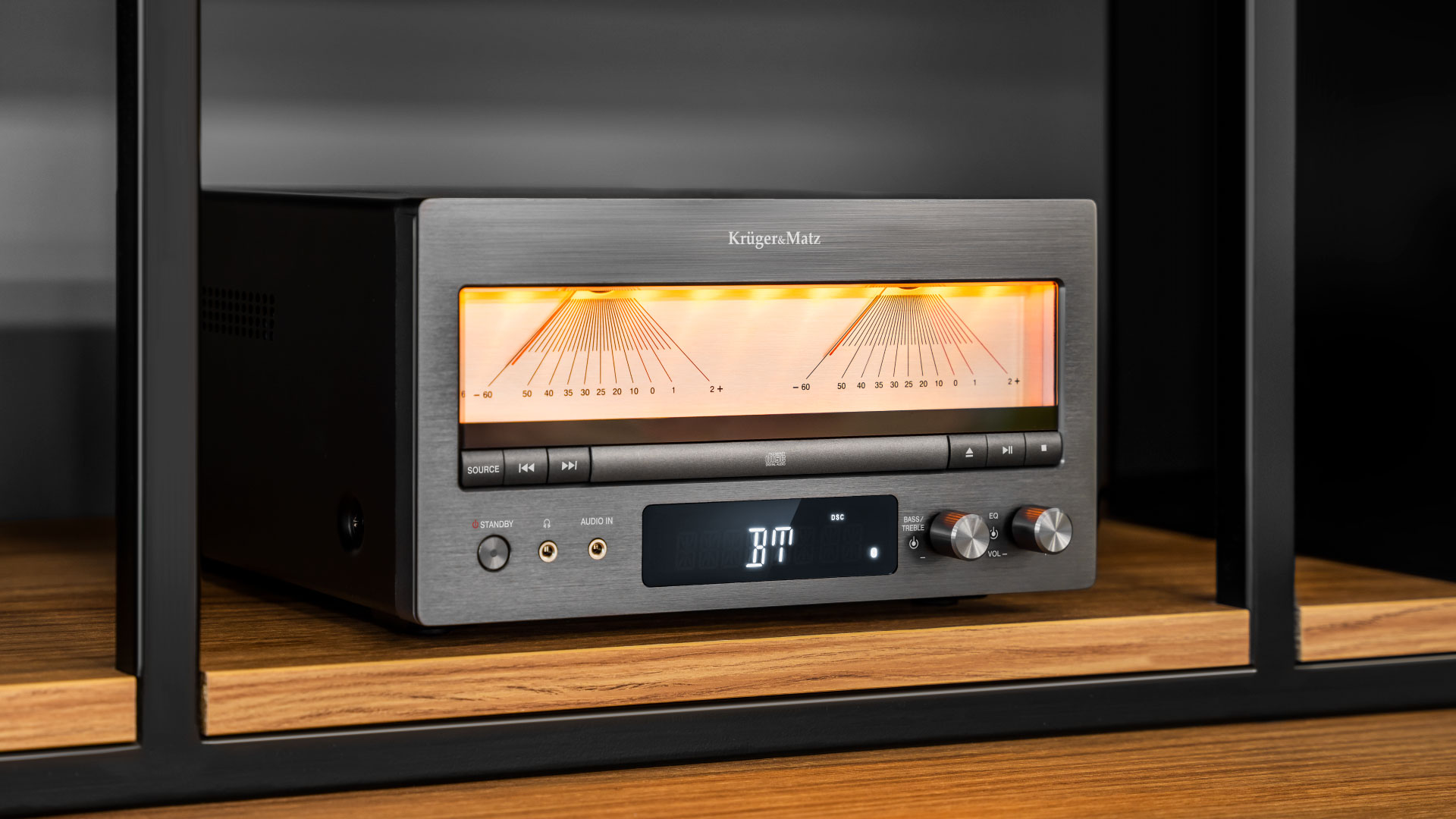 Wzmacniacz klasy A
Wzmocnij swoje doznania muzyczne! Tranzystorowy wzmacniacz klasy A został wyposażony w liczne gniazda, które pomogą Ci stworzyć Twój własny system audio. To stylowe urządzenie o mocy 45 W zapewni realistyczne brzmienie oraz czysty i dynamiczny dźwięk.
W stylu retro
KM1995-A zachwyca nie tylko wysoką jakością dźwięku, ale także elegancją, która gwarantuje nienaganną estetykę w każdym wnętrzu. Unikalnego charakteru w stylu retro dodaje także umieszczony na froncie analogowy miernik wysterowania poziomu audio.
Radio FM i DAB+
Lubisz słuchać audycji radiowych? Wzmacniacz Kruger&Matz daje Ci taką możliwość, w dodatku w bardzo wysokiej jakości dźwięku. Wszystko dzięki cyfrowemu radiu DAB+, które zapewni sygnał bez żadnych zakłóceń.
Klasyka i nowoczesność
KM1995-A pomimo designu w stylu retro, jest bogaty w nowoczesne rozwiązania. Dzięki funkcji Bluetooth urządzenie dostosowane jest do obsługi muzyki z urządzeń mobilnych. Dzięki temu możesz odtwarzać swoją ulubioną playlistę bez zbędnych i plączących się kabli.
Zestaw dla tradycjonalistów
Jeśli jednak potrzebujesz tradycyjnych rozwiązań do dyspozycji masz odtwarzacz płyt CD, AUX oraz port USB, który nie tylko pozwala na odtwarzanie Twojej biblioteki muzycznej, ale także umożliwia ładowanie urządzeń zewnętrznych.
Specification
MAIN FUNCTIONS
CD player
Yes
DVD player
No
Remote control
Yes
CONNECTION
FM radio
Yes
FM radio frequency
87,5 - 108 MHz
DAB+ radio
Yes
DAB+ frequency range
174,928 - 239,200 MHz
Bluetooth
5.0
Bluetooth range
Up to 10 m
Bluetooth profiles
A2DP
Max. Bluetooth transmission power
4 dBm
Bluetooth frequency
2402-2480 MHz
I/O
USB port
Yes (5 V / 1 A)
AUX input
Jack 3,5 mm
Headphone output
Jack 3,5 mm
Tube preamplifier
Yes
Optical input
Yes
Radio antenna input
Yes
AMPLIFIER SPECIFICATION
Valve preamplifier
Yes
Power consumption
45 W (max. 210 W at full volume)
Output power (RMS)
2 x 50 W
THD
<1% (1 KHz, 1 W)
Power supply
230 V~; 50/60 Hz
DIMENSIONS
Unit
245 x 136 x 296 mm
Weight
6 kg
zakladka_1
SERWIS DOOR-TO-DOOR - 2 lata gwarancji
Masz problem ze sprzętem Kruger&Matz?
W dogodnym dla Ciebie terminie na nasz koszt wyślemy kuriera po Twoje urządzenie.
Gdy proces reklamacji się zakończy, otrzymasz wiadomość kiedy kurier dostarczy naprawiony sprzęt.
Potrzebujesz więcej informacji? Napisz do nas na [email protected] lub zadzwoń: 25 685 00 88. Nasza infolinia jest do Twojej dyspozycji od poniedziałku do piątku w godzinach 8-16.
Dlaczego Krüger&Matz?
zakladka_3
zakladka_3_tresc
Support
No files to download
Gdzie kupić?
Znajdź najbliższy sklep
Wpisz kod pocztowy, adres lub miasto, aby znaleźć sklep:
Promień:
lub:
Shipping costs

The price does not include any possible payment costs