In-ear headphones B1 white
In-ear headphones B1 white
Speaker size: 10 mm
Built-in microphone
Cable: 120 cm
Plug: Jack 3,5 mm
3 sizes of silicone covers
Available in 2 colors: white and black
Dispatched within:
24 godziny
Delivery:
The price does not include any possible payment costs
product unavailable

add to wish list
Description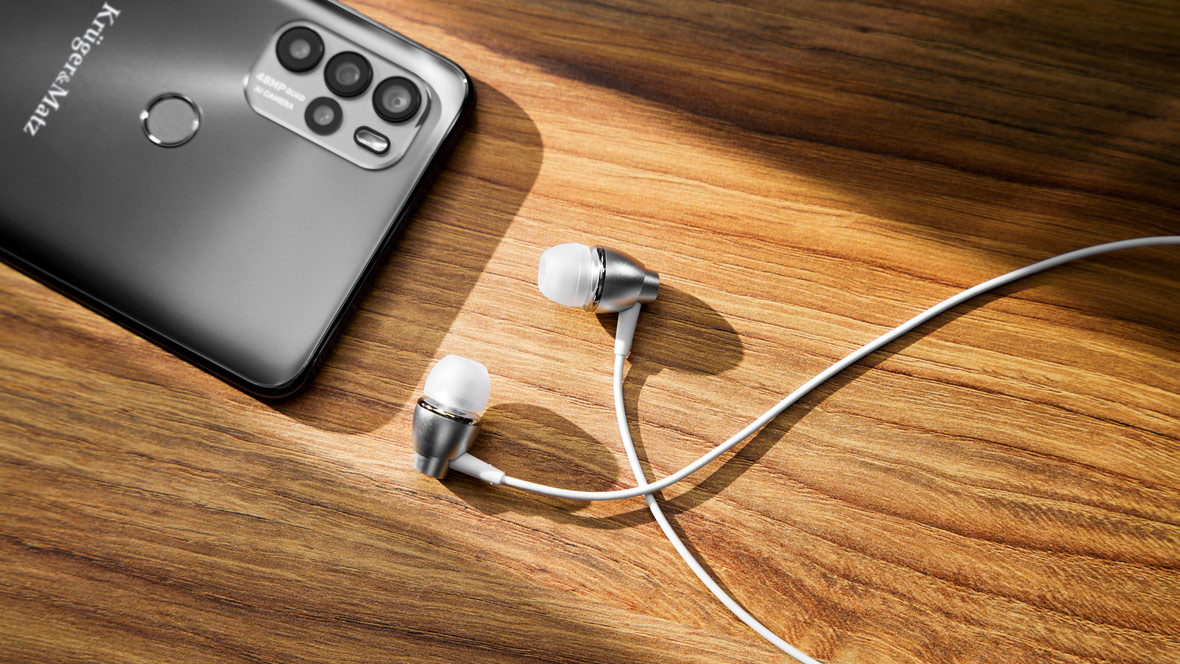 Przewodowe słuchawki dokanałowe Kruger&Matz B1
Szukasz dobrych słuchawek dokanałowych? Koniecznie sprawdź model Kruger&Matz B1, który pozwoli Ci się cieszyć ulubionymi piosenkami odtwarzanymi zarówno ze smartfonów, jak też z innych odtwarzaczy muzycznych. Głośniki o średnicy 10 mm zapewnią wierne odtworzenie dźwięków, a wbudowany mikrofon sprawia, że model ten będzie doskonałą alternatywą dla słuchawek dołączanych do telefonu.

W zestawie znajdują się silikonowe wkładki w trzech rozmiarach, dzięki którym słuchawki optymalnie dopasowują się do ucha, zapewniając komfort oraz doskonałą izolację akustyczną. Warto również zwrócić uwagę na to, że słuchawki są dostępne w dwóch wariantach kolorystycznych – czarnym i białym. Wybierz model idealny dla siebie!
Specification
Technology
Wired
Microphone
Yes
Material
Plastic
Color
White
Speaker size
Ø 10 mm
Frequency response
20 ~ 20 000 Hz
Impedance
16 Ohm +/-15%
Sensitivity
98 dB +/- 3 dB
Total harmonic distortion
=<5%
S/N ratio
>=58 dB
Max. input power
5 mW
Microphone sensitivity
-42 dB +/- 3 dB
Cord
120 cm, TPE
Plug
Jack 3,5 mm
SET INCLUDES
3 pairs of eartips, user's manual
zakladka_1
SERWIS DOOR-TO-DOOR - 2 lata gwarancji
Masz problem ze sprzętem Kruger&Matz?
W dogodnym dla Ciebie terminie na nasz koszt wyślemy kuriera po Twoje urządzenie.
Gdy proces reklamacji się zakończy, otrzymasz wiadomość kiedy kurier dostarczy naprawiony sprzęt.
Potrzebujesz więcej informacji? Napisz do nas na [email protected] lub zadzwoń: 25 685 00 88. Nasza infolinia jest do Twojej dyspozycji od poniedziałku do piątku w godzinach 8-16.
Dlaczego Krüger&Matz?
zakladka_3
zakladka_3_tresc
Gdzie kupić?
Znajdź najbliższy sklep
Wpisz kod pocztowy, adres lub miasto, aby znaleźć sklep:
Promień:
lub:
Shipping costs

The price does not include any possible payment costs