KM 819 portable radio
KM 819 portable radio
FM frequency: 87,5 – 108 MHz
20 stations memory
Clock, alarm
Battery power supply
Headphone output
Dispatched within:
24 godziny
Delivery:
The price does not include any possible payment costs
product unavailable

add to wish list
Description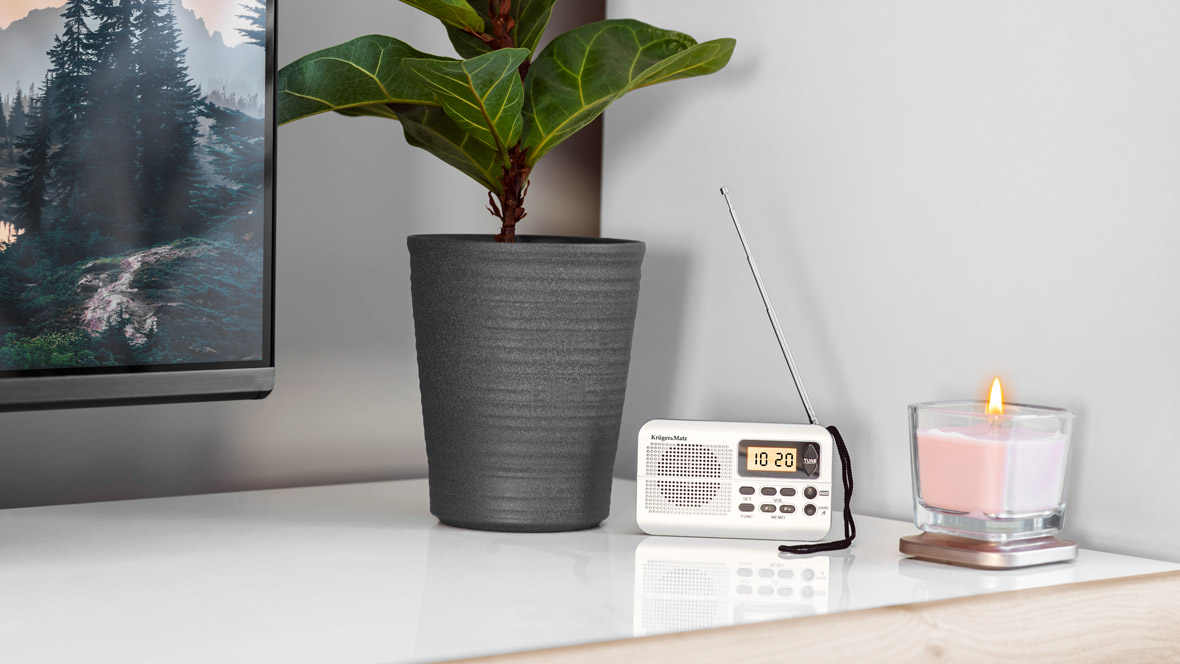 Przenośne radio Kruger&Matz KM 819
KM 819 to radio przenośne, które dzięki swoim kompaktowym wymiarom bez problemu zmieści się w torebce lub plecaku, a nawet większej kieszeni. Dzięki temu swobodnie posłuży jako małe radio turystyczne, które wszędzie możesz zabrać ze sobą, by umilić czas ulubionymi stacjami FM.

Niewielka obudowa skrywa w sobie teleskopową antenę o długości 20 cm, dzięki której radio kieszonkowe Kruger&Matz umożliwi znakomity odbiór sygnału. Uzupełnieniem wyposażenia jest gniazdo jack 3,5 mm, do którego możesz podłączyć słuchawki przewodowe, by cieszyć się audycjami nie zakłócając spokoju domowników.

KM 819 to małe radio na baterie, które może pamiętać nawet 20 Twoich ulubionych stacji. Funkcjonalność urządzenia zwiększa funkcja zegara oraz alarmu. Dzięki niej, możesz budzić się przy dźwiękach tradycyjnego buzzera, albo ostatnio słuchanej stacji radiowej.
Specification
| | |
| --- | --- |
| FM radio frequency range | 87,5 – 108 MHz |
| AM radio frequency range | 522 – 1620 kHz |
| Headphone output | 3,5 mm jack |
| Functions | 20 stations memory, clock, alarm |
| External battery power supply socket | 3 V (2x AAA battery) |
| Antenna | Telescopic |
zakladka_1
SERWIS DOOR-TO-DOOR - 2 lata gwarancji
Masz problem ze sprzętem Kruger&Matz?
W dogodnym dla Ciebie terminie na nasz koszt wyślemy kuriera po Twoje urządzenie.
Gdy proces reklamacji się zakończy, otrzymasz wiadomość kiedy kurier dostarczy naprawiony sprzęt.
Potrzebujesz więcej informacji? Napisz do nas na [email protected] lub zadzwoń: 25 685 00 88. Nasza infolinia jest do Twojej dyspozycji od poniedziałku do piątku w godzinach 8-16.
Dlaczego Krüger&Matz?
zakladka_3
zakladka_3_tresc
Gdzie kupić?
Znajdź najbliższy sklep
Wpisz kod pocztowy, adres lub miasto, aby znaleźć sklep:
Promień:
lub:
Shipping costs

The price does not include any possible payment costs