KM 821 alarm clock radio
KM 821 alarm clock radio
FM frequency: 87,5 - 108 MHz
10 radio stations memory
Dual alarm
LED display
Dispatched within:
24 godziny
Delivery:
The price does not include any possible payment costs
product unavailable

add to wish list
Description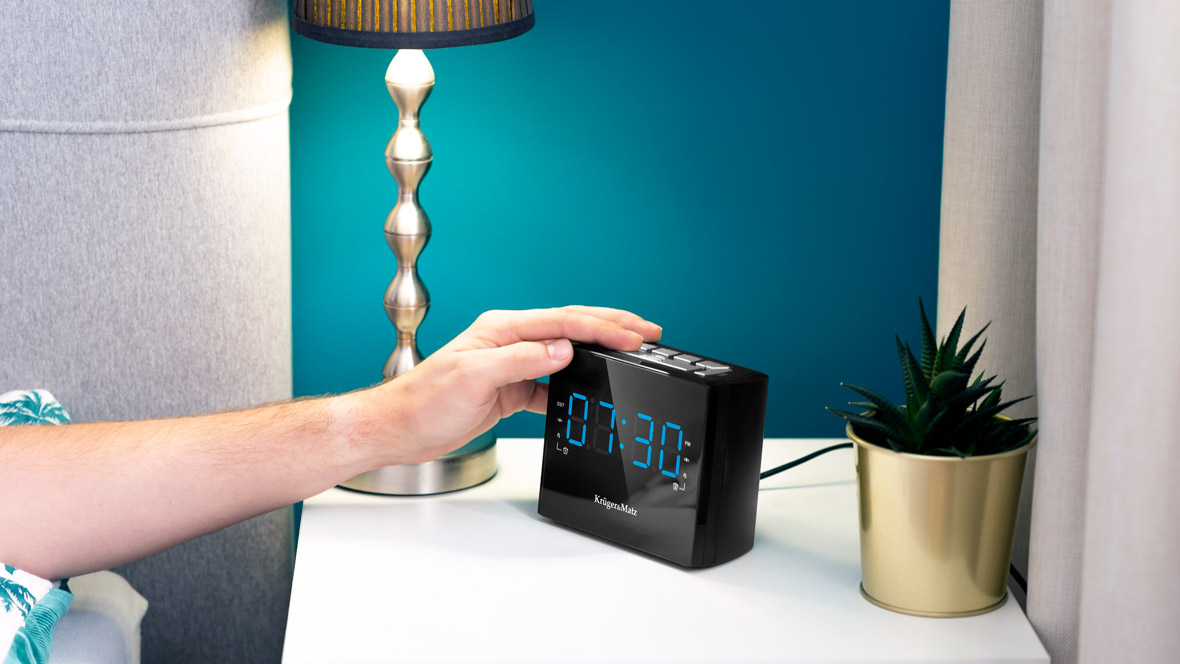 Radiobudzik Kruger&Matz KM 821
Jeśli chcesz, by Twoja poranna pobudka była choć odrobinę milsza, wykorzystaj radiobudzik Kruger&Matz KM 821. Pobudka dźwiękami ulubionej stacji radiowej zamiast klasycznego buzzera to recepta na uśmiech od samego rana. Tym bardziej, że urządzenie umożliwia ustawienie dwóch takich alarmów oraz daje możliwość zapisania dwudziestu stacji radiowych.

Dla osób, które potrzebują jeszcze chwili na rozbudzenie, idealną opcją będzie funkcja drzemki. Co więcej, zegarek z budzikiem i radiem Kruger&Matz posiada timer, który pozwoli spokojnie zasnąć przy ulubionej stacji radiowej, bo po ustawionym czasie urządzenie samo się wyłączy.

Duży wyświetlacz został zamknięty w eleganckiej, czarnej obudowie z czytelnie ułożonymi przyciskami funkcyjnymi. Zatem nie ważne jaki wystrój masz w sypialni, urządzenie wkomponuje się w jej wystrój, stanowiąc doskonałe uzupełnienie.
Specification
| | |
| --- | --- |
| FM radio frequency range | 87,5 – 108 MHz |
| Speakers | 1x 0,5 W |
| Impedance | 8 Ohm |
| Functions | 10 radio stations memory, dual alarm |
| AC/DC adapter | 230 V / 50 Hz |
| External battery power supply socket | 2x AAA 1,5 V (maintaining clock settings) |
| Power consumption | 3 W |
| Dimensions (WxHxD) | 130 x 63 x 116 cm |
zakladka_1
SERWIS DOOR-TO-DOOR - 2 lata gwarancji
Masz problem ze sprzętem Kruger&Matz?
W dogodnym dla Ciebie terminie na nasz koszt wyślemy kuriera po Twoje urządzenie.
Gdy proces reklamacji się zakończy, otrzymasz wiadomość kiedy kurier dostarczy naprawiony sprzęt.
Potrzebujesz więcej informacji? Napisz do nas na [email protected] lub zadzwoń: 25 685 00 88. Nasza infolinia jest do Twojej dyspozycji od poniedziałku do piątku w godzinach 8-16.
Dlaczego Krüger&Matz?
zakladka_3
zakladka_3_tresc
Gdzie kupić?
Znajdź najbliższy sklep
Wpisz kod pocztowy, adres lub miasto, aby znaleźć sklep:
Promień:
lub:
Shipping costs

The price does not include any possible payment costs