KM 822 portable radio
KM 822 portable radio
Headphone output (3,5 mm)
FM frequency: 88 – 108 MHz
AC power supply: 230 V; 50 Hz
DC power supply: 4,5 V (3x D battery)
Dispatched within:
24 godziny
Delivery:
The price does not include any possible payment costs
product unavailable

add to wish list
Description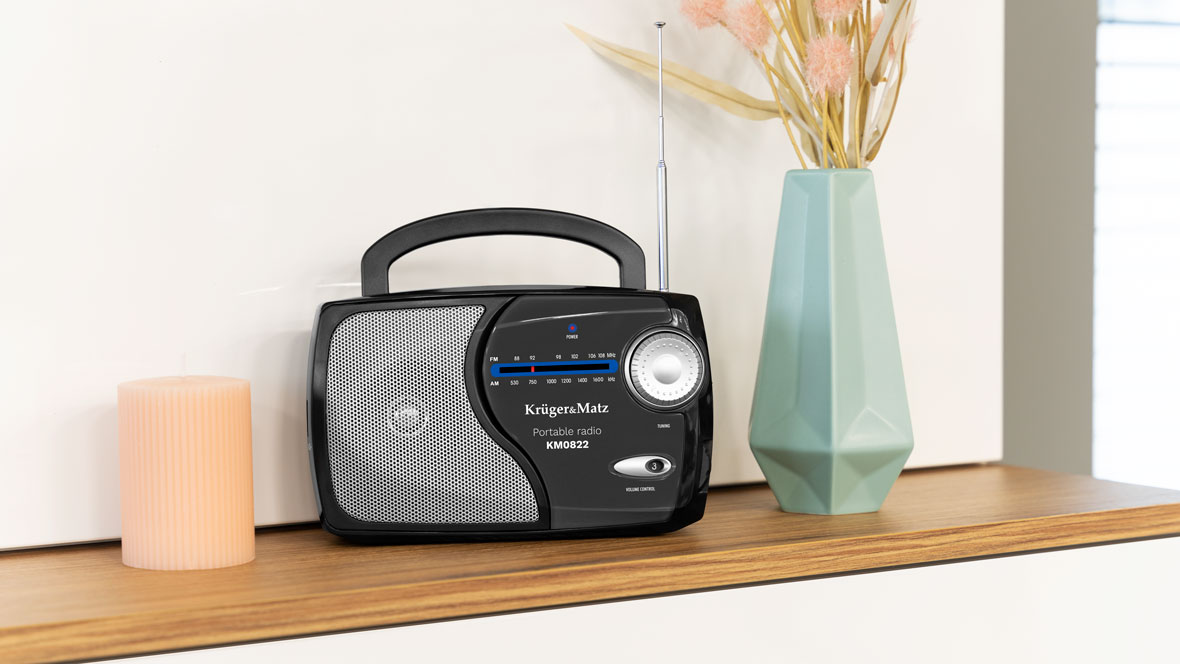 Radioodbiornik Kruger&Matz KM 822
Interesuje Cię dobre radio do domu, dzięki któremu będziesz na bieżąco z informacjami i ulubionymi audycjami? Wybierz radioodbiornik Kruger&Matz KM 822 z anteną teleskopową, która umożliwia doskonały odbiór fal radiowych na częstotliwościach FM i AM

Radio KM 822 wyposażone jest w analogowy tuner AM/FM, co gwarantuje możliwość odbioru wielu popularnych stacji radiowych. Co ważne, z uwagi na czytelny panel z częstotliwościami oraz poręczne pokrętło do wyszukiwania stacji radiowych, małe radyjko Kruger&Matz jest bardzo intuicyjne w obsłudze.

Jak na radioodbiorniki przenośne przystało małe radio KM 822 wyposażone jest w składany uchwyt, który ułatwia przenoszenie urządzenia, a także posiada możliwość zasilania sieciowego, jak też bateriami. Taka funkcjonalność odbiornika FM Kruger&Matz sprawia, że może służyć jako małe radio turystyczne, które bez problemu zabierzesz ze sobą na działkę, do ogrodu, a nawet na camping.

KM 822 pomimo, że jest to mały radioodbiornik, w swojej kompaktowej obudowie skrywa także wyjście słuchawkowe. Dzięki niemu możesz głośno słuchać muzyki, albo ulubionych audycji i jednocześnie nie zakłócać spokoju pozostałych domowników.
Specification
| | |
| --- | --- |
| FM radio frequency range | 88 – 108 MHz |
| AM radio frequency range | 530 – 1600 kHz |
| Headphone output | 3,5 mm jack |
| AC/DC adapter | 230 V; 50 Hz |
| External battery power supply socket | 4,5 V (3x D battery) |
| Antenna | Telescopic |
| Dimensions (WxHxD) | 225 x 143 x 75 mm |
| Weight | 591 g |
zakladka_1
SERWIS DOOR-TO-DOOR - 2 lata gwarancji
Masz problem ze sprzętem Kruger&Matz?
W dogodnym dla Ciebie terminie na nasz koszt wyślemy kuriera po Twoje urządzenie.
Gdy proces reklamacji się zakończy, otrzymasz wiadomość kiedy kurier dostarczy naprawiony sprzęt.
Potrzebujesz więcej informacji? Napisz do nas na [email protected] lub zadzwoń: 25 685 00 88. Nasza infolinia jest do Twojej dyspozycji od poniedziałku do piątku w godzinach 8-16.
Dlaczego Krüger&Matz?
zakladka_3
zakladka_3_tresc
Support
No files to download
Gdzie kupić?
Znajdź najbliższy sklep
Wpisz kod pocztowy, adres lub miasto, aby znaleźć sklep:
Promień:
lub:
Shipping costs

The price does not include any possible payment costs