LIVE 10S
LIVE 10S
Display: 6,67" FHD+
CPU: MediaTek Helio P70; 8x 2,1 GHz
Android 11
8 GB RAM + 256 GB internal memory
Camera: rear 48 Mpx + 5 Mpx + 2 Mpx + 2 Mpx, front 16 Mpx
5000 mAh battery
NFC, dual SIM, fingerprint scanner, Face ID
Protective glass and cover included
Dispatched within:
24 godziny
Delivery:
The price does not include any possible payment costs
product unavailable

add to wish list
Description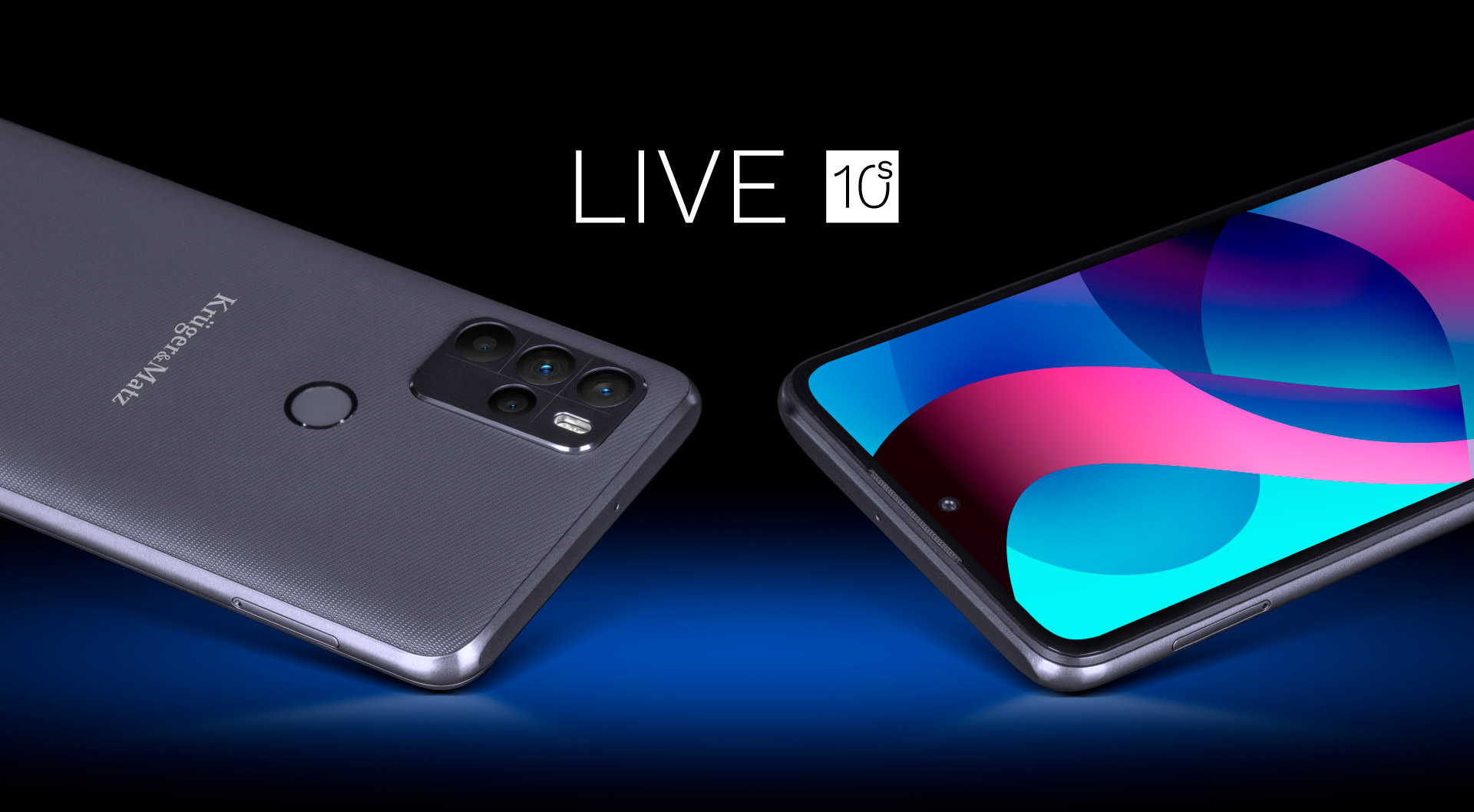 Kruger&Matz LIVE 10S
Poznaj funkcjonalny i elegancki smartfon, minimalistyczny w formie, ale maksymalnie wyposażony w przydatne rozwiązania. Oto LIVE 10S.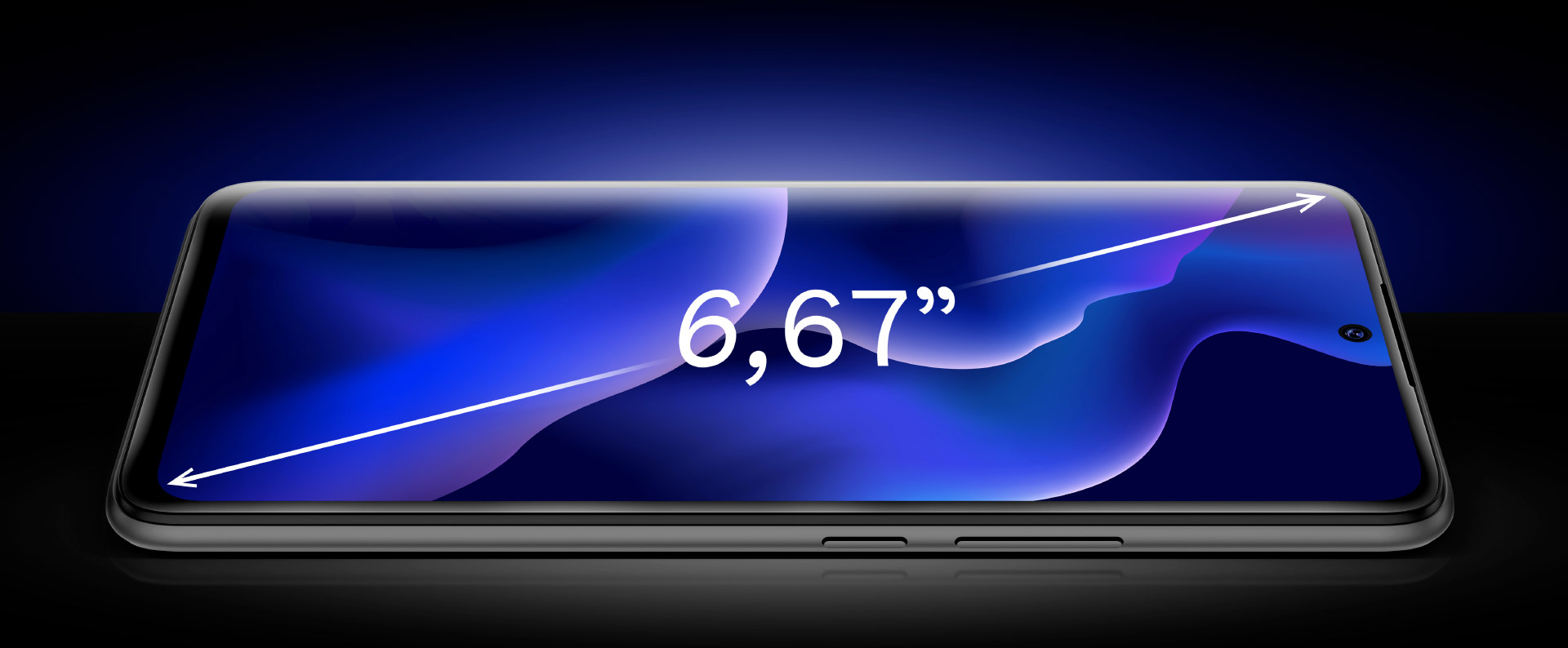 Duży wyświetlacz
LIVE 10S sprosta każdemu zadaniu. Ekran IPS o przekątnej 6,67" w rozdzielczości Full HD+ i proporcjach 20:9 doskonale sprawdzi się do pracy, przeglądania stron internetowych, grania i nauki. Szykowna, smukła obudowa w kolorze czarnym pewnie leży w dłoni, zwiększając tym samym satysfakcję z użytkowania urządzenia.
Wysoka wydajność
Za płynna pracę urządzenia odpowiada ośmiordzeniowy procesor MediaTek Helio P70, taktowany zegarem 2,1 GHz oraz wspierany 8 GB pamięci RAM. Takie zestawienie pozwala w pełni wykorzystać funkcjonalność urządzenia i daje gwarancję płynnej pracy podczas korzystania z różnego rodzaju aplikacji, internetu lub grania w ulubione gry.
Dobra pamięć
Dziesiąta odsłona smartfona LIVE posiada aż 256 GB pamięci wewnętrznej. Dzięki temu zawsze pod ręką będziesz mieć wszystkie albumy ze zdjęciami i najważniejsze aplikacje. Dla jeszcze bardziej wymagających użytkowników LIVE 10S został wyposażony w slot na kartę micro SD, który pozwala rozszerzyć pamięć o kolejne 256 GB.

Poczwórna radość fotografowania
Uchwyć najważniejsze momenty w życiu z poczwórną radością. Główny aparat 48 Mpx z przysłoną f/1.8 sprawi, że wszystkie zdjęcia będą zawsze świetnej jakości, a szerokokątny o rozdzielczości 5 Mpx umożliwi robienie zdjęć w bardzo szerokim kadrze. Pozostałe dwa aparaty 2 Mpx pozwolą uchwycić detale w skali makro oraz dostosować stopień rozmycia tła.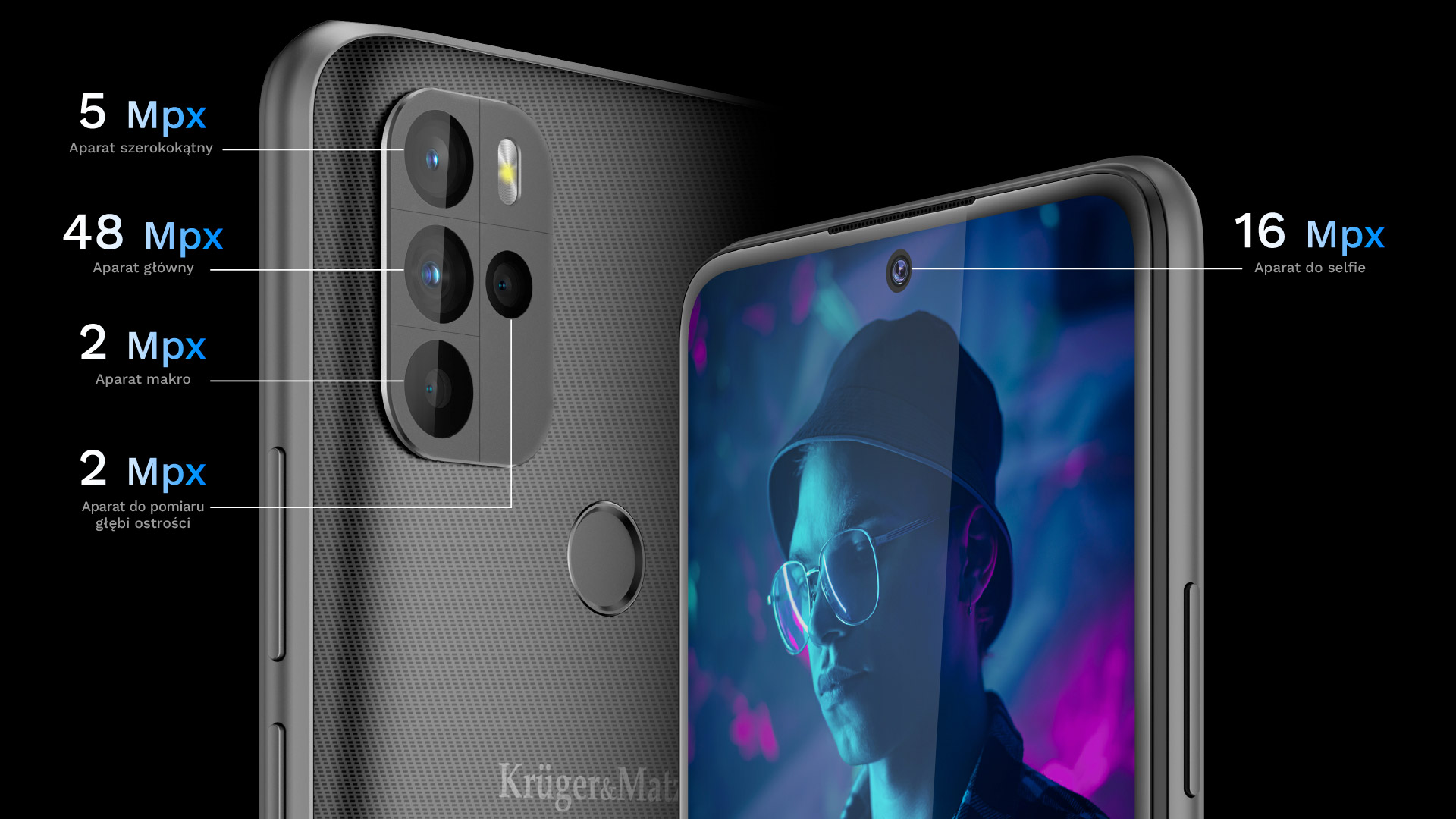 Intuicyjny Android
Wybierz LIVE 10S i poczuj komfort obsługi odświeżonej wersji systemu Android. Decydując się na to urządzenie uzyskujesz szeroką funkcjonalność, intuicyjną pracę oraz dostęp do licznych gier i aplikacji ze sklepu Play.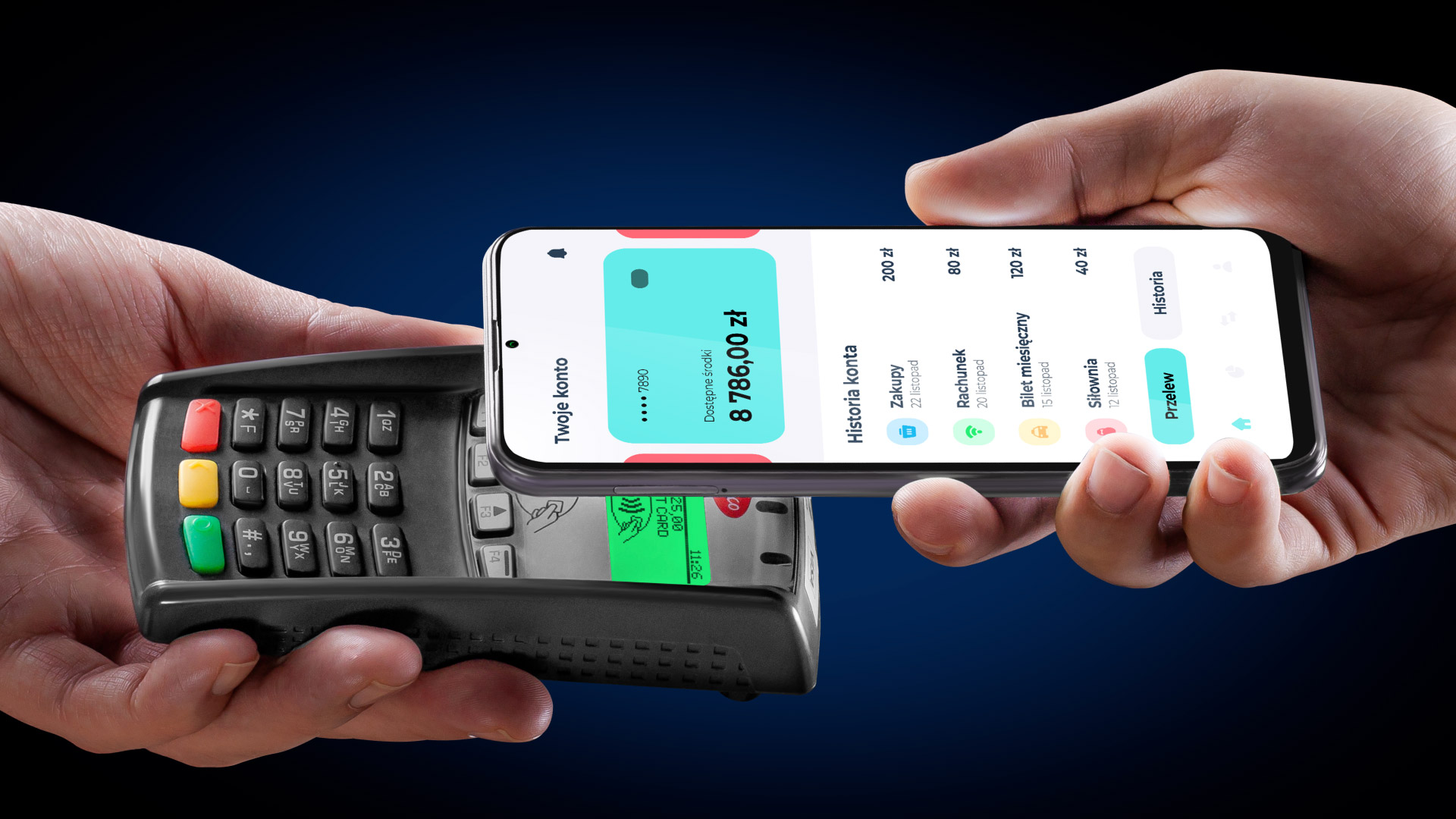 Smartfon z NFC
Płacenie telefonem może być równie proste co płacenie kartą płatniczą! Kruger&Matz LIVE 10S został wyposażony w moduł NFC, dlatego bez dodatkowych autoryzacji możesz szybko i wygodnie płacić zbliżeniowo za pomocą urządzenia mobilnego. Wszystko dla Twojej wygody!
Mocne wsparcie
Dzięki baterii o pojemności 5000 mAh smartfon LIVE 10S spełni wszystkie Twoje oczekiwania i nie zawiedzie Cię w najmniej oczekiwanym memencie. Zastosowany w tym modelu akumulator pozwala swobodnie korzystać z urządzenia przez długie godziny, z jednoczesnym zachowaniem jego smukłych kształtów.
Smartfon z Dual SIM
LIVE 10S nie uznaje kompromisów. W urządzeniu zastosowano aż 3 sloty – 2 nano SIM oraz micro SD. Takie zestawienie sprawia, że możesz swobodnie korzystać z dwóch numerów telefonów i jednocześnie rozszerzyć pamięć wewnętrzną za pomocą karty.
W trosce o bezpieczeństwo
LIVE 10S posiada funkcję FaceID oraz czytnik linii papilarnych. Używając takich zabezpieczeń masz pewność, że dane, które przechowujesz w pamięci urządzenia nie będą zagrożone, nawet gdy smartfon dostanie się w niepowołane ręce.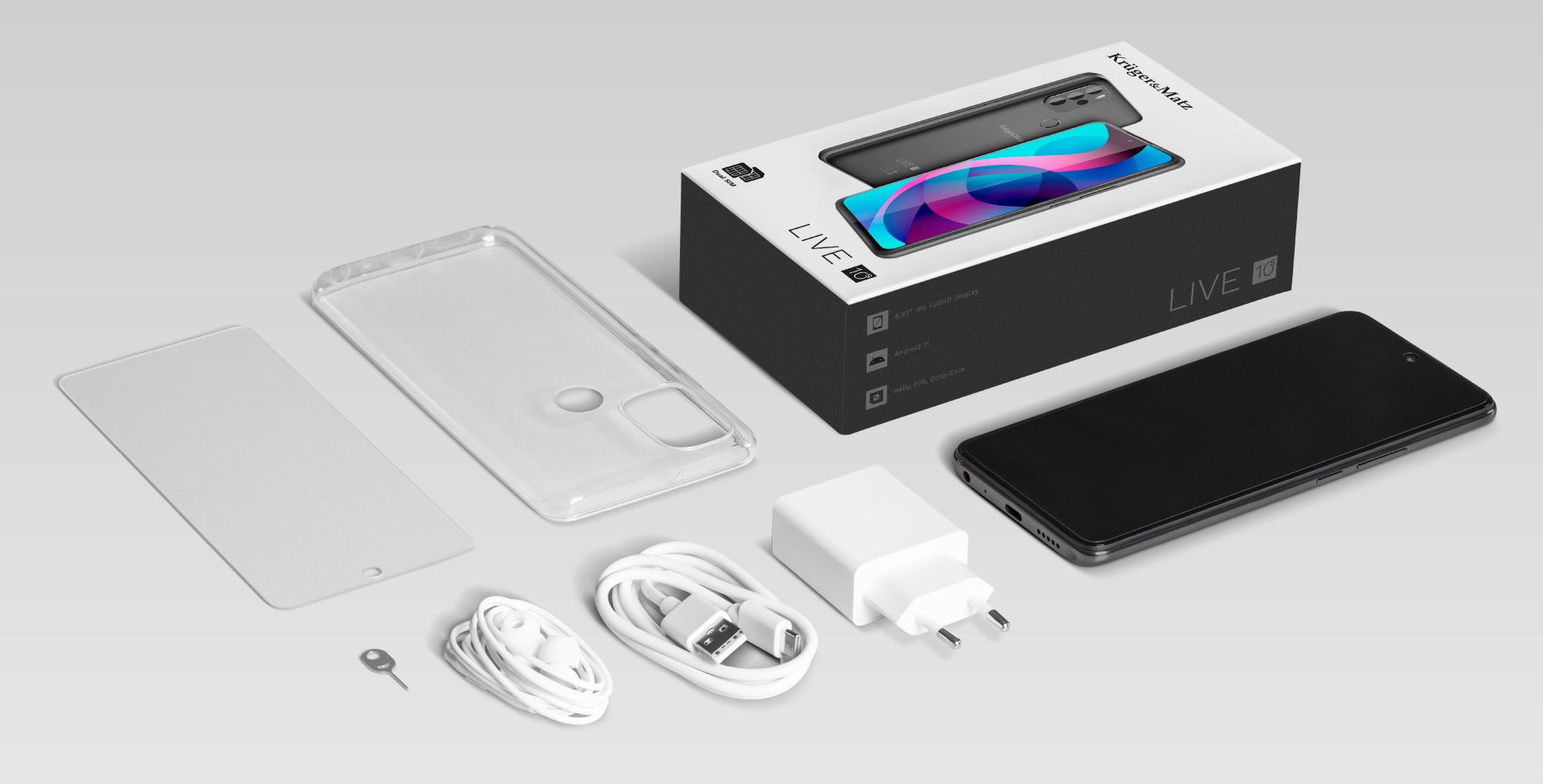 Pełne wyposażenie
Nie musisz martwić się o zakup dodatkowych akcesoriów! Wraz ze smartfonem Kruger&Matz LIVE 10S, oprócz słuchawek, w zestawie znalazły się silikonowe etui oraz szkło ochronne. Zadbaj o bezpieczeństwo swojego telefonu zaraz po wyjęciu go z pudełka!
Specification
SYSTEM AND MAIN PARAMETERS
Operating system
Android
System version
11
Chipset
MediaTek Helio P70 (MT6771T)
CPU
Octa-Core, 8x 2,1 GHz
GPU
Mali G72, 900 MHz
RAM
8 GB
Internal memory
256 GB
Dual SIM
Yes
DISPLAY
Size
6,67"
Resolution
1080x2400 px, FHD+ (20:9)
Panel
IPS
PPI
394
Touch panel
Capacitive, 5-point
Viewing angle
80°
MULTIMEDIA
Rear camera
48 Mpx + 5 Mpx + 2 Mpx + 2 Mpx
Camera aperture
Rear: f/1,8 ; f/2,2 ; f/2,4 ; f/2,4, front: f/2,0
Front camera
16 Mpx
Video codecs
H.264/H.265
Video files
MP4/3GP/AVI/H.264
Audio files
AMR/MP3/WAV
Microphone
Yes
Speaker
Yes
FM Radio
Yes
CONNECTION
Band
LTE
Network
GSM/GPRS/EDGE/WCDMA/TDD-LTE/FDD-LTE
GPS
GPS/AGPS
NFC
Yes
Wi-Fi
802.11 a/b/g/n/ac
Bluetooth
4.2
SENSORS
Proximity sensor
Yes
G-sensor
Yes
Light sensor
Yes
Gyroscope
Yes
Fingerprint scanner
Yes
Geomagnetic sensor
Yes
I/O
SIM slot
2x nano SIM
MicroSD card reader
Yes (max. 256 GB)
USB port
USB-C
Headphones output
Jack 3,5 mm
POWER SUPPLY
AC adapter
5 V / 2000 mA
Battery capacity
5000 mAh
PHYSICAL CHARACTERISTICS
Weight
201 g
Dimensions
165 x 77,5 x 9,5 mm
SET INCLUDES
Charger, USB Cable, user's manual, case, protective glass, earphones
zakladka_1
SERWIS DOOR-TO-DOOR - 2 lata gwarancji
Masz problem ze sprzętem Kruger&Matz?
W dogodnym dla Ciebie terminie na nasz koszt wyślemy kuriera po Twoje urządzenie.
Gdy proces reklamacji się zakończy, otrzymasz wiadomość kiedy kurier dostarczy naprawiony sprzęt.
Potrzebujesz więcej informacji? Napisz do nas na [email protected] lub zadzwoń: 25 685 00 88. Nasza infolinia jest do Twojej dyspozycji od poniedziałku do piątku w godzinach 8-16.
Dlaczego Krüger&Matz?
zakladka_3
zakladka_3_tresc
Gdzie kupić?
Znajdź najbliższy sklep
Wpisz kod pocztowy, adres lub miasto, aby znaleźć sklep:
Promień:
lub:
Shipping costs

The price does not include any possible payment costs