Laptop Explore 1407
Laptop Explore 1407
Display 14,1" FHD 1920x1080 px
CPU Intel® i3-6157U, Dual-Core
Windows 10 Home
8 GB LPDDR4 RAM
SSD 128 GB internal memory
Battery 3400 mAh
2x USB, USB typu C, HDMI, audio input, RJ-45 
MicroSD card reader (max. 128 GB)
Dispatched within:
24 godziny
Delivery:
The price does not include any possible payment costs
Price:
1 399,00 zł
1399.00
product unavailable

add to wish list
Description
Praca w full HD
Szukasz niezawodnego, ale taniego laptopa? Kruger&Matz Explore 1407 został stworzony z myślą o Tobie! Urządzenie zostało wyposażone w 14-calowy ekran full HD, gwarantujący wysoki komfort użytkowania, nawet podczas wielogodzinnej pracy.
Na wysokich obrotach
Potrzebujesz laptopa do pracy biurowej? Sercem Kruger&Matz Explore 1407 jest mocny i wydajny procesor Intel Core i3, wspierany przez 8 GB RAM. Dzięki takiemu połączeniu urządzenie świetnie sprawdzi się na przykład jako laptop do home office, a także zdalnej nauki.
Pełna prędkość
Zależy Ci na szybkim działaniu? Koniecznie wybierz laptop z dyskiem SSD, który zapewnia znacznie większą prędkość zapisu i odczytu. Co więcej, w porównaniu do klasycznego dysku HHD, SSD zużywa mniej energii oraz jest bardziej odporny na uszkodzenia.
Witaj w Domu!
Laptop Explore 1407 działa w oparciu o niezwykle intuicyjny i wszystkim dobrze znany system Windows. Ulepszone menu Start to gwarancja szybkiego dostępu do ulubionych funkcji i potrzebnych aplikacji czy programów. W systemie Windows 10 Home poczujesz się jak w domu.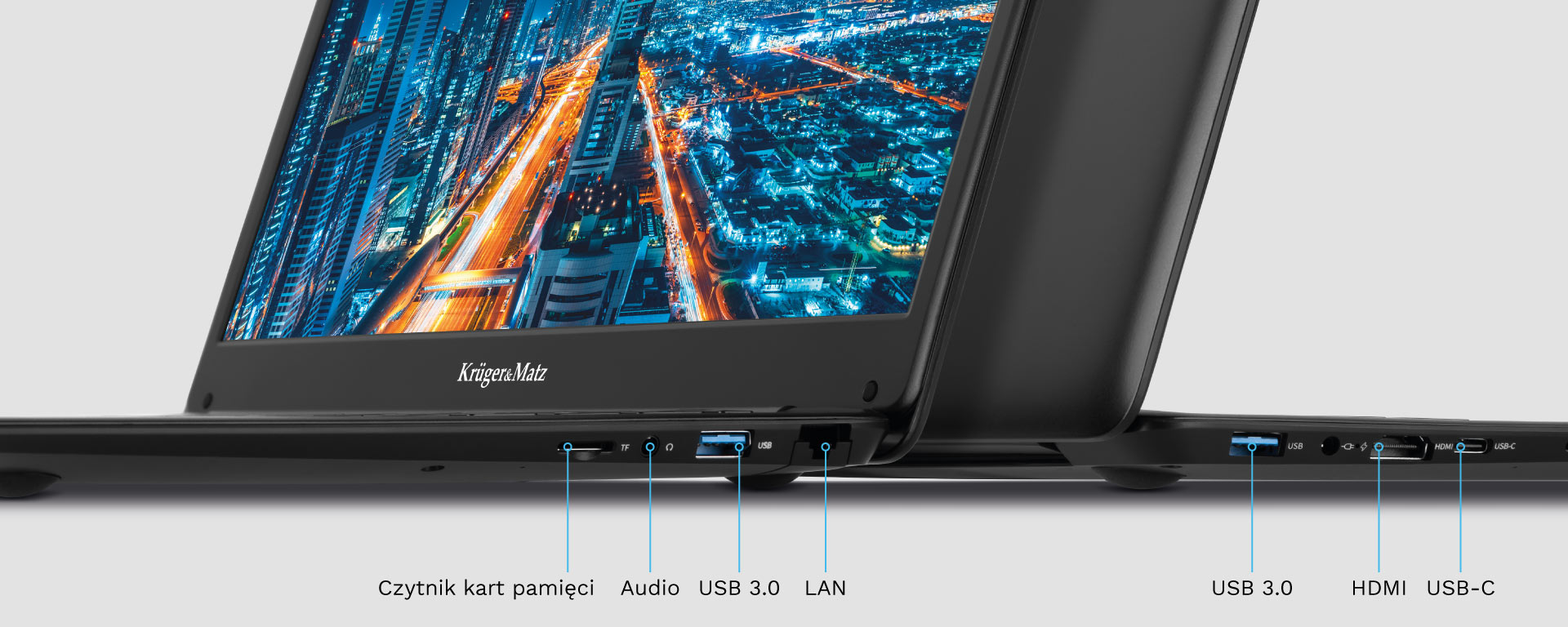 Z potencjałem
Aby zwiększyć funkcjonalność urządzenia, Explore 1407 został wyposażony w szereg portów. Dzięki nim możesz np. rozszerzyć pamięć laptopa za pomocą karty micro SD, czy podłączyć nośniki zewnętrzne poprzez porty USB. Do dyspozycji masz także: gniazda audio, HDMI oraz złącze Ethernet RJ-45.
Mocne wsparcie
Używasz laptopa nie tylko do pracy w domu, ale także na uczelni czy podczas podróży? Potrzebujesz urządzenia, które będzie gotowe do działania przez wiele godzin bez potrzeby ładowania. Właśnie taki jest Kruger&Matz Explore 1407. Sprawdź sam!
Dbałość o wygodę
Podczas tych wielu godzin pracy, które zapewnia pojemna bateria niezwykle ważny jest komfort. W Explore 1407 jest on zapewniony przez doskonale wyprofilowany układ klawiszy z idealnie wymierzonym skokiem oraz czuły i precyzyjny touchpad.

Stylowy design
Kruger&Matz Explore 1407 to nie tylko bogate wnętrze, Zaawansowane podzespoły i 14-calowy ekran zostały zamknięte w stylowej, czarnej obudowie. Smukła linia oraz niewielka waga tego laptopa sprawiają, że będziesz zabierać go ze sobą wszędzie.
Specification
SYSTEM AND MAIN PARAMETERS
Operating system
Windows
System version
10 Home
CPU
Intel® i3-6157U, Dual-Core; 2,4 GHz
GPU
Intel® HD Graphics 550
RAM
8 GB LPDDR4
Internal memory
128 GB SSD SATA
DISPLAY
Size
14"
Resolution
1920x1080 px, FHD
Aspect ratio
16:9
Panel
IPS
MULTIMEDIA
Camera
1 Mpx
Microphone
Yes
Speakers
Yes
CONNECTIVITY
Built-in modem
No
GPS
No
Wi-Fi
802.11 a/b/g/n/ac (2,4 GHz / 5 GHz)
Bluetooth
4.2
I/O
SD card reader
MicroSD (max. 128 GB)
USB port
2x USB 3.0, USB-C
Headphones output
Jack 3,5 mm
Audio socket
Jack 3,5 mm
HDMI output
HDMI
RJ-45
Yes
POWER SUPPLY
AC adapter
19 V, 3 A
Battery capacity
3400 mAh; 11,4 V
PHYSICAL CHARACTERISTICS
Weight
1490 g
Dimensions
332,6 x 223,5 x 21,5 mm
SET INCLUDES
AC adapter, user's manual
zakladka_1
SERWIS DOOR-TO-DOOR - 2 lata gwarancji
Masz problem ze sprzętem Kruger&Matz?
W dogodnym dla Ciebie terminie na nasz koszt wyślemy kuriera po Twoje urządzenie.
Gdy proces reklamacji się zakończy, otrzymasz wiadomość kiedy kurier dostarczy naprawiony sprzęt.
Potrzebujesz więcej informacji? Napisz do nas na [email protected] lub zadzwoń: 25 685 00 88. Nasza infolinia jest do Twojej dyspozycji od poniedziałku do piątku w godzinach 8-16.
Dlaczego Krüger&Matz?
zakladka_3
zakladka_3_tresc
Support
No files to download
Gdzie kupić?
Znajdź najbliższy sklep
Wpisz kod pocztowy, adres lub miasto, aby znaleźć sklep:
Promień:
lub:
Shipping costs

The price does not include any possible payment costs