Music Box Party DJ wireless speaker
Music Box Party DJ wireless speaker
Bluetooth 5.0
Power: 30 W
Speakers: 2x 6,5" + 1,5"
AUX, USB 2.0, micro USB, micro SD
FM radio
Microphone input
TWS function (connect two speakers)
Dispatched within:
24 godziny
Delivery:
The price does not include any possible payment costs
product unavailable

add to wish list
Description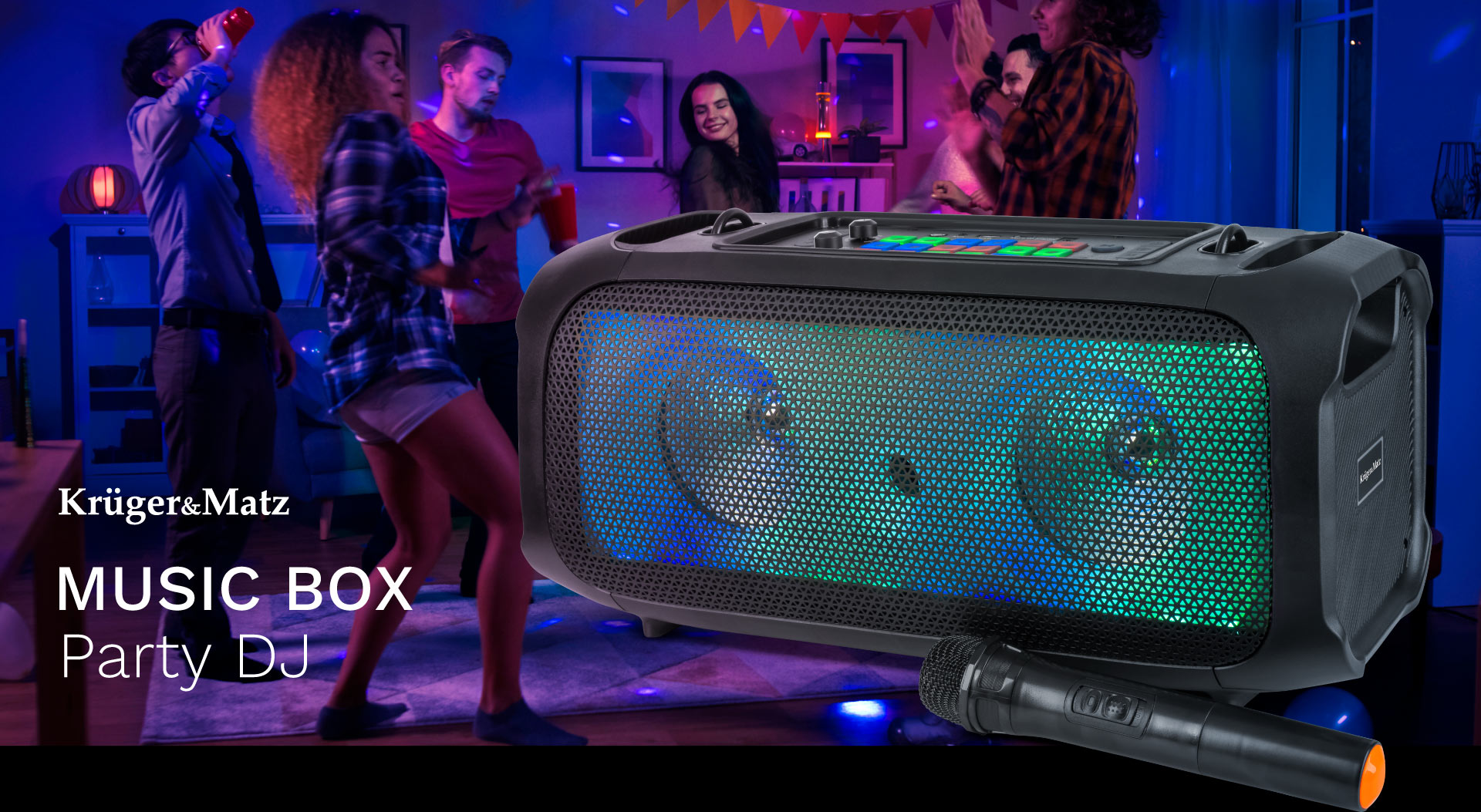 Głośnik boombox na imprezę
Nie lubisz, gdy na domówce wieje nudą? Wybierz głośnik BT, który pomoże Ci rozkręcić imprezę. Music Box Party DJ, z dwoma przetwornikami 6,5" i jednym 1,5" o łącznej mocy 30 W, pomoże Ci rozkręcić każdą zabawę. Daj się ponieść rytmom Twoich ulubionych piosenek!
Efekty dźwiękowe
Wczuj się w rolę DJ'a i porwij znajomych na parkiet! Pomoże Ci w tym panel sterowania z nagranymi efektami dźwiękowymi. Do dyspozycji masz efekty: muzyki techno, syntezatora oraz perkusyjne. Dobra zabawa gwarantowana!
Podbicie basu
Zaskocz siłą i jakością dźwięku! Mocne basy w głośniku Music Box Party DJ zapewnia funkcja X-bass, która wzmocni niskie dźwięki i nada piosenkom pełniejszego, głębszego brzmienia.
Głośnik bezprzewodowy do karaoke
Chcesz zorganizować domowy wieczór karaoke? W zestawie z głośnikiem otrzymujesz mikrofon bezprzewodowy, który zrobi z Ciebie gwiazdę wieczoru! Co więcej, dzięki dodatkowemu wejściu na mikrofon, możecie także w duetach!
Odtwarzaj jak lubisz
Music Box Party DJ, dzięki technologii Bluetooth możesz połączyć praktycznie z każdym urządzeniem. Dzięki obecności portów AUX, USB i microSD możesz słuchać ulubionej playlisty zapisanej na smartfonie, karcie pamięci czy pendrivie. Music Box Party DJ to boombox z radiem, zatem bez problemu umożliwi słuchanie Twoich ulubionych stacji.
Efektowne podświetlenie
Chcesz nadać organizowanej przez siebie imprezie dyskotekowego klimatu? Music Box Party DJ posiada diody LED RGB, które podświetlają głośniki prezentując niesamowity pokaz świetlny. Ustaw zatem urządzenie w centralnym punkcie i ciesz się nie tylko wysoką jakością dźwięku, ale też szeroką funkcjonalnością tego głośnika!
True Wireless Stereo
Nadaj większej mocy swojej imprezie! Dzięki funkcji True Wireless Stereo (TWS) możesz stworzyć zestaw stereo, łącząc ze sobą dwa głośniki Music Box Party DJ. Wprowadź wszystkich w imprezowy klimat!
Wygoda przemieszczania
Nie lubisz być długo w jednym miejscu? Niech Twoja ulubiona muzyka zawsze podąża razem z Tobą! Dzięki wygodnemu uchwytowi oraz wytrzymałym kółkom z łatwością przetransportujesz głośnik Bluetooth na miejsce imprezy.
Specification
| | |
| --- | --- |
| FM radio | Yes |
| FM frequency | 87,5 – 108 MHz |
| Bluetooth | 5.0 |
| Speaker | 2x 6,5" + 1,5" |
| Frequency response | 50 Hz ~ 20 kHz |
| Power | 30 W |
| Impedance | 6 Ohm |
| Technology | True Wireless Stereo (connect two speakers) |
| Additional functions | X-bass, launchpad with sound effects |
| S/N ratio | 85 dB |
| Memory card reader | micro SD |
| USB port | USB 2.0, micro USB |
| Audio socket | 3,5 mm jack |
| Microphone input | 6,3 mm jack |
| LED backlight | Yes |
| Built-in battery | 3600 mAh |
| Charging voltage | 9 V / 1,5 A |
| Dimensions | 470 x 225 x 240 mm |
| Weight | 4,7 kg |
zakladka_1
SERWIS DOOR-TO-DOOR - 2 lata gwarancji
Masz problem ze sprzętem Kruger&Matz?
W dogodnym dla Ciebie terminie na nasz koszt wyślemy kuriera po Twoje urządzenie.
Gdy proces reklamacji się zakończy, otrzymasz wiadomość kiedy kurier dostarczy naprawiony sprzęt.
Potrzebujesz więcej informacji? Napisz do nas na [email protected] lub zadzwoń: 25 685 00 88. Nasza infolinia jest do Twojej dyspozycji od poniedziałku do piątku w godzinach 8-16.
Dlaczego Krüger&Matz?
zakladka_3
zakladka_3_tresc
Gdzie kupić?
Znajdź najbliższy sklep
Wpisz kod pocztowy, adres lub miasto, aby znaleźć sklep:
Promień:
lub:
Shipping costs

The price does not include any possible payment costs