Phone holder
Phone holder
Arms adjustment: 56,8 - 88,4 mm
Tilt angle adjustment and rotary construction
Mounting: on a windshield
Dispatched within:
24 godziny
Delivery:
The price does not include any possible payment costs
product unavailable

add to wish list
Description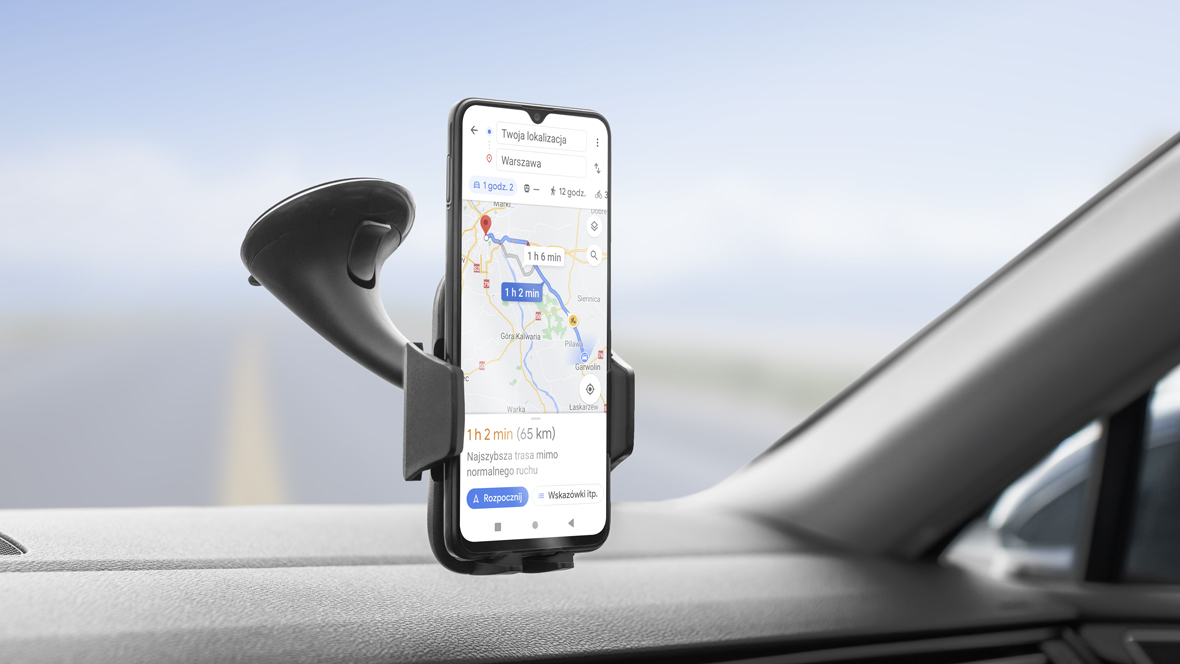 Uniwersalny uchwyt do telefonu Kruger&Matz KM1368
Dla każdego kierowcy bezpieczeństwo podczas podróży jest najważniejsze. Dlatego uchwyt na telefon do samochodu Kruger&Matz będzie niezbędnym dodatkiem do wyposażenia każdego auta. Produkt świetnie sprawdzi się na co dzień oraz podczas długich podróży, kiedy korzystasz również z nawigacji. Wystarczy, że umieścisz go na przedniej szybie i możesz swobodnie pokonywać długie kilometry.

Solidna konstrukcja uchwytu niweluje efekt drgania, a mechanizm zapadkowy zapewnia bezpieczeństwo Twojego smartfona podczas jazdy. Dodatkowo solidna przyssawka mocno utrzymuje uchwyt na miejscu, dzięki czemu masz pewność, że Twój telefon nie spadnie, nawet podczas jazdy po najbardziej wyboistej drodze.

Uchwyt do smartfona Kruger&Matz jest uniwersalny i pasuje do każdego telefonu o szerokości od 5,5 cm do 8,7 cm. Obrotowa konstrukcja 360° umożliwi dostosowanie odpowiedniego kąta widzenia, a miękka wewnętrzna wyściółka zapewnia antypoślizgowe mocowanie i chroni obudowę urządzenia przed zarysowaniami.
Specification
| | |
| --- | --- |
| Type | Car |
| Mounting | On a windshield |
| Side arms | Adjustable, 56,8 - 88,4 mm |
| Adjustable stand | No |
| Arm | Rotary |
zakladka_1
SERWIS DOOR-TO-DOOR - 2 lata gwarancji
Masz problem ze sprzętem Kruger&Matz?
W dogodnym dla Ciebie terminie na nasz koszt wyślemy kuriera po Twoje urządzenie.
Gdy proces reklamacji się zakończy, otrzymasz wiadomość kiedy kurier dostarczy naprawiony sprzęt.
Potrzebujesz więcej informacji? Napisz do nas na [email protected] lub zadzwoń: 25 685 00 88. Nasza infolinia jest do Twojej dyspozycji od poniedziałku do piątku w godzinach 8-16.
Dlaczego Krüger&Matz?
zakladka_3
zakladka_3_tresc
Support
No files to download
Gdzie kupić?
Znajdź najbliższy sklep
Wpisz kod pocztowy, adres lub miasto, aby znaleźć sklep:
Promień:
lub:
Shipping costs

The price does not include any possible payment costs