Power bank 30 000 mAh
Power bank 30 000 mAh
Interface: USB Type-C, micro USB, Lightning, 2x USB-A
Battery capacity: 30000 mAh
Power: 10 W
Short-circuit, overcurrent, overcharge and deep discharge protection
Dispatched within:
24 godziny
Delivery:
The price does not include any possible payment costs
product unavailable

add to wish list
Description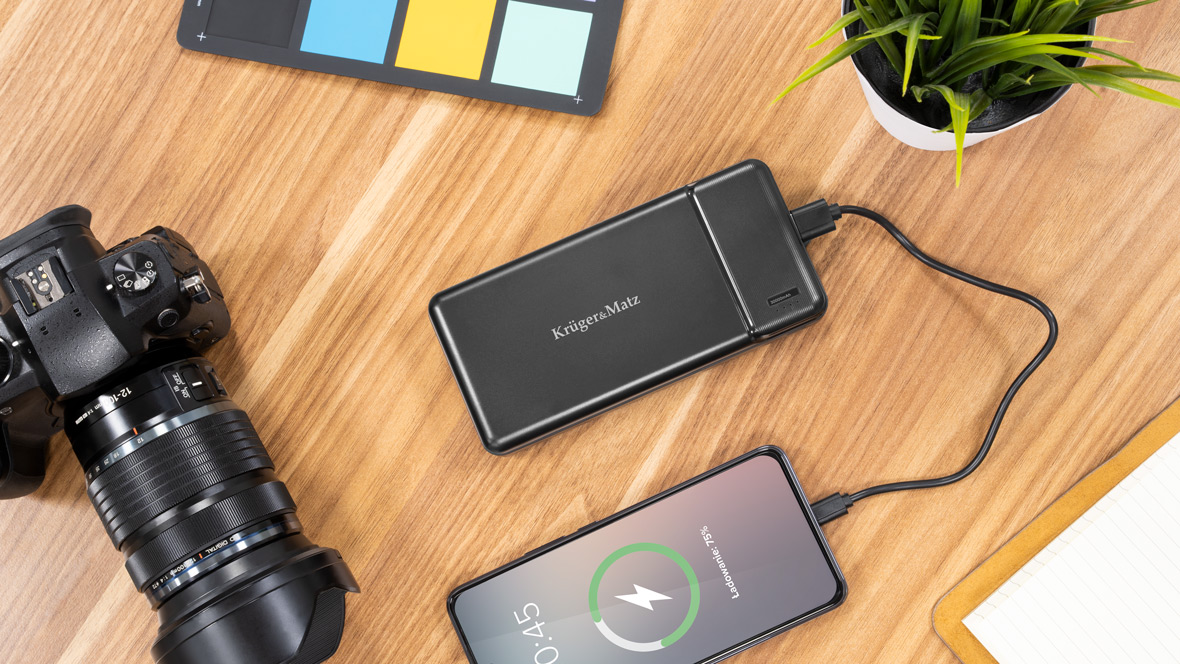 Power bank Kruger&Matz 30 000 mAh
Potrzebujesz naprawdę mocnego power banka? Model Kruger&Matz KM0907 posiada ogniwo litowo-polimerowe o pojemności 30 000 mAh, co pozwoli Ci to na wielokrotne naładowanie smartfona, aparatu czy notebooka. Co ważne, akcesorium zostało wyposażone w 2 porty USB, dzięki czemu możesz jednocześnie ładować dwa urządzenia. Wystarczy, że podłączysz kabel, a urządzenie samo wykryje połączenie i rozpocznie pracę.

Power bank Kruger&Matz posiada szereg zabezpieczeń: przed przepięciem, przeciążeniem, przeładowaniem, głębokim rozładowaniem, a stan jego baterii możesz kontrolować dzięki czterem diodom umieszczonym na czarnej, solidnej obudowie. Dużym udogodnieniem są aż 3 wejścia: USB typu C, micro USB oraz Lightning. Z pewnością posiadasz kabel, który umożliwi Ci naładowanie tego urządzenia.
Specification
Interface
USB Type-C, micro USB, Lightning, 2x USB-A
Battery type
Li-Poly
Battery capacity
30000 mAh
Input (USB Type-C, micro USB, Lightning)
5 V ⎓ 2 A
USB-A output
5 V ⎓ 2 A
Automatic connection detection
Yes
Protection against
Short-circuit, overcurrent, overcharge and deep discharge
Material
ABS + aluminum
Weight
603 g
Dimensions
165 x 77 x 30 mm
SET INCLUDES
Micro USB cable
zakladka_1
SERWIS DOOR-TO-DOOR - 2 lata gwarancji
Masz problem ze sprzętem Kruger&Matz?
W dogodnym dla Ciebie terminie na nasz koszt wyślemy kuriera po Twoje urządzenie.
Gdy proces reklamacji się zakończy, otrzymasz wiadomość kiedy kurier dostarczy naprawiony sprzęt.
Potrzebujesz więcej informacji? Napisz do nas na [email protected] lub zadzwoń: 25 685 00 88. Nasza infolinia jest do Twojej dyspozycji od poniedziałku do piątku w godzinach 8-16.
Dlaczego Krüger&Matz?
zakladka_3
zakladka_3_tresc
Gdzie kupić?
Znajdź najbliższy sklep
Wpisz kod pocztowy, adres lub miasto, aby znaleźć sklep:
Promień:
lub:
Shipping costs

The price does not include any possible payment costs