Senior flip phone Simple 930
Senior flip phone Simple 930
Main display: 2,4"
Secondary display: 1,77"
SOS button, 2x SIM
FM radio, sound recorder, flashlight, alarm clock, calculator
Talk time: up to 5 h
Standby time: up to 300 h
Dispatched within:
24 godziny
Delivery:
The price does not include any possible payment costs
Price:
169,00 zł
179,00 zł
169.00
The lowest price during 30 days prior to the promotion:
141,99 zł
If the product is sold for less than 30 days, the lowest price since the product went on sale is displayed.
product unavailable

add to wish list
Description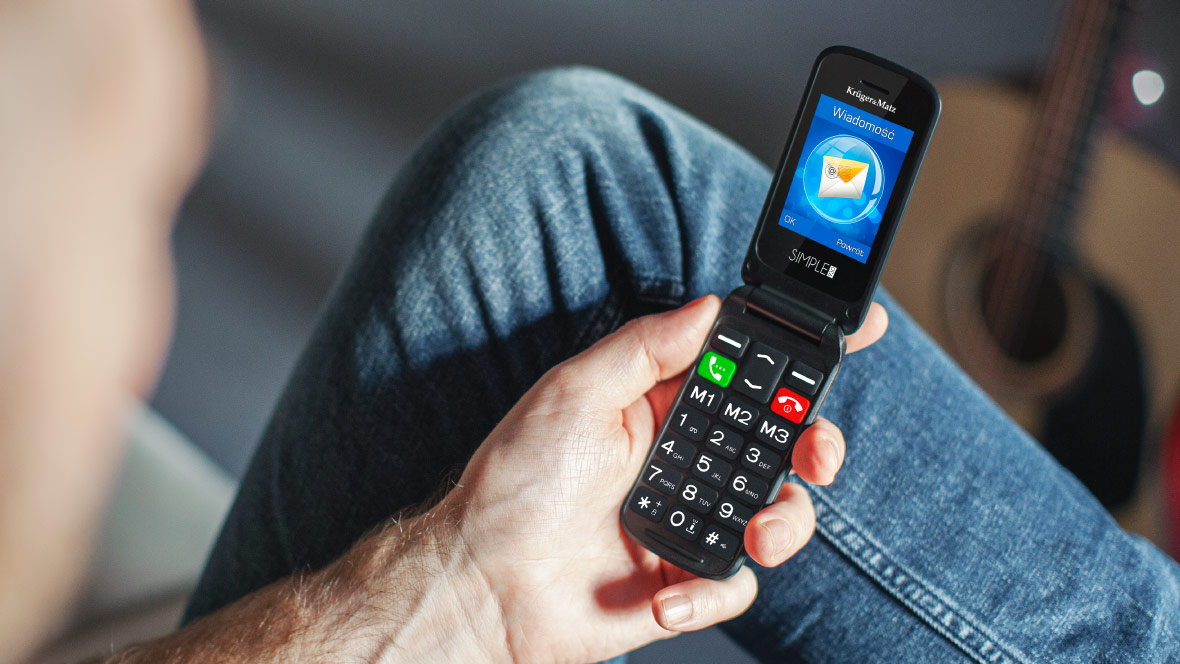 Telefon z klapką dla seniora Kruger&Matz Simple 930
Urządzenia Kruger&Matz są tworzone tak, aby sprostać oczekiwaniom wszystkich użytkowników, niezależnie od wieku. Dlatego też w ofercie znaleźć można również telefony dla seniora. Mając na uwadze, że w telefonie dla starszej osoby najważniejszy jest komfort użytkowania, Kruger&Matz Simple 930 posiada duże, czytelne przyciski, dzięki którym bez problemu można poruszać się po intuicyjnym menu. Urządzenie posiada dwa kolorowe wyświetlacze – główny, 2,4-calowy, oraz dodatkowy, 1,77 calowy, umieszczony w klapce urządzenia.

Telefon komórkowy z klapką Simple 930 posiada również szereg funkcji dodatkowych. Wśród nich warto zwrócić uwagę na wbudowane radio oraz odtwarzacz mp3, które zapewnią stały dostęp do najświeższych informacji oraz muzyki zapisanej na karcie micro SD. Aktywne osoby mogą skorzystać z bardziej zaawansowanych funkcji, np. opcji dual SIM, która w zależności od różnego rodzaju potrzeb daje możliwość korzystania z dwóch osobnych, standardowych kart SIM. Telefon posiada także baterię o pojemności 1000 mAh, która wystarcza na ok. 5 godzin rozmów lub do 300 godzin pracy w trybie czuwania.

Najlepszy telefon dla seniora, to taki, który oprócz funkcjonalności i wygody, będzie dawał poczucie bezpieczeństwa. Simple 930 posiada przycisk SOS, który umożliwia szybki kontakt z bliskimi. Wystarczy jedno kliknięcie, aby urządzenie najpierw wysłało wiadomości do wybranych osób, a następnie kolejno do nich zadzwoniło. Idealne rozwiązanie, gdy potrzebna jest natychmiastowa pomoc. To wszystko sprawia, że telefon komórkowy dla seniora Kruger&Matz to połączenie wygody użytkowania z poczuciem bezpieczeństwa.
Specification
MAIN PARAMETERS
Display size
2,4" (main); 1,77" (secondary)
Dual SIM
Yes
Bluetooth
2.0
Camera
0,3 Mpx
FM Radio
Yes
SOS button
Yes
Loudspeaker function
Yes
Features
Vibrations, call history, SMS messages, MP3 player, video player, sound recorder, flashlight, alarm clock, calculator
Micro SD card slot
Yes (max. 8 GB)
Talk time
Up to 5 hours
Standby time
Up to 300 hours
Battery capacity
Li-Ion 1000 mAh
AC adapter
Input: 100 – 240 V; 50/60 Hz, output: 5 V / 500 mA
Weight
98 g
Dimensions
109 x 52 x 20 mm (folded); 196 x 52 x 20 mm (unfolded)
In set
Docking station, charger, user's manual
zakladka_1
SERWIS DOOR-TO-DOOR - 2 lata gwarancji
Masz problem ze sprzętem Kruger&Matz?
W dogodnym dla Ciebie terminie na nasz koszt wyślemy kuriera po Twoje urządzenie.
Gdy proces reklamacji się zakończy, otrzymasz wiadomość kiedy kurier dostarczy naprawiony sprzęt.
Potrzebujesz więcej informacji? Napisz do nas na [email protected] lub zadzwoń: 25 685 00 88. Nasza infolinia jest do Twojej dyspozycji od poniedziałku do piątku w godzinach 8-16.
Dlaczego Krüger&Matz?
zakladka_3
zakladka_3_tresc
Gdzie kupić?
Znajdź najbliższy sklep
Wpisz kod pocztowy, adres lub miasto, aby znaleźć sklep:
Promień:
lub:
Shipping costs

The price does not include any possible payment costs