Tablet EAGLE 1070
Tablet EAGLE 1070
Display: 10,5" FHD 1920x1200 px
CPU: MediaTek Helio P60, 8 cores, max. 2,0 GHz
Android 10
6 RAM + 128 GB internal memory
Camera: front 5 Mpx, rear 8 Mpx
7000 mAh battery
1x nano SIM, 1x nano SIM/micro SD, jack 3,5 mm, USB C type
4G, GPS
product unavailable

add to wish list
Description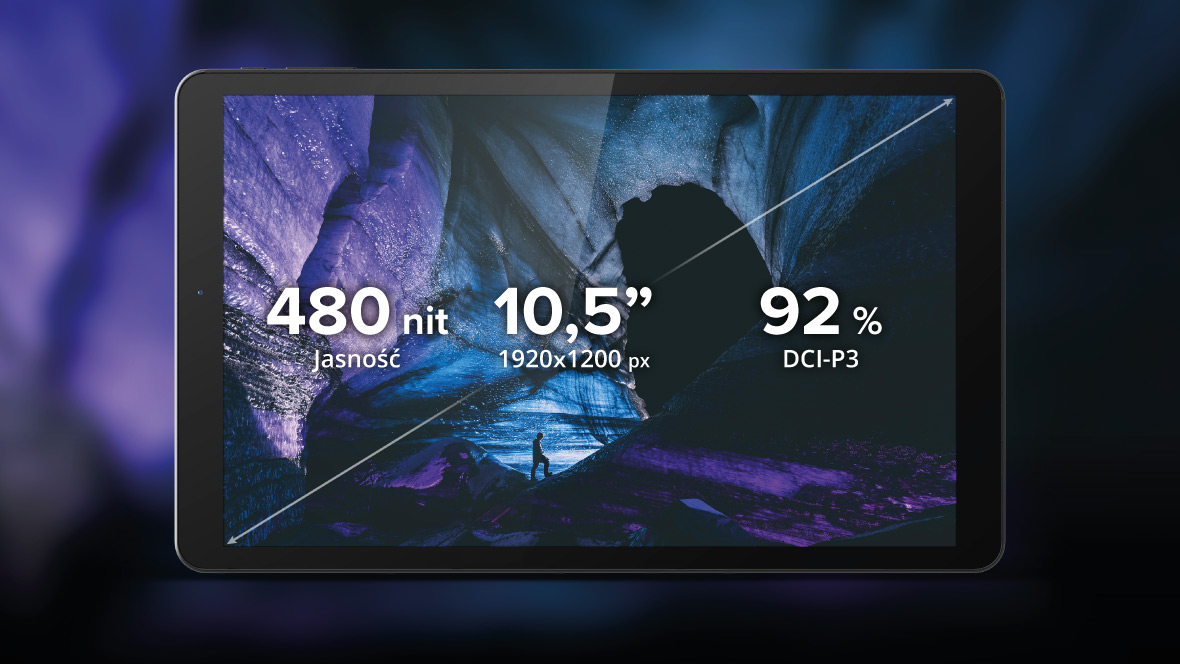 I wszystko jasne!
Wyświetlacz to kluczowy element tabletu. 10,5-calowy ekran full HD, w jaki został wyposażony EAGLE 1070, przyciąga uwagę wysoką jasnością obrazu oraz szeroką przestrzenią barwową. Zapewnia to lepsze odwzorowanie kolorów oraz czytelny obraz – nawet, gdy z urządzenia korzystasz na zewnątrz w bardzo słoneczne dni.
Zachowaj to w pamięci
Tablet Kruger&Matz EAGLE 1070 pozwoli Ci na przechowywanie naprawdę dużej ilości plików, muzyki i aplikacji. Urządzenie zostało wyposażone w 128 GB pamięci wewnętrznej, którą można podwoić za pomocą karty pamięci.
Na wysokich obrotach
EAGLE 1070 napędza 8-rdzeniowym procesor MediaTek Helio P60, wspierany 6 GB pamięci RAM. Takie połączenie gwarantuje płynną pracę i sprawia, że ten model sprawdzi się m.in. jako tablet do gier. Wykorzystaj w pełni możliwości oferowane przez sklep Play.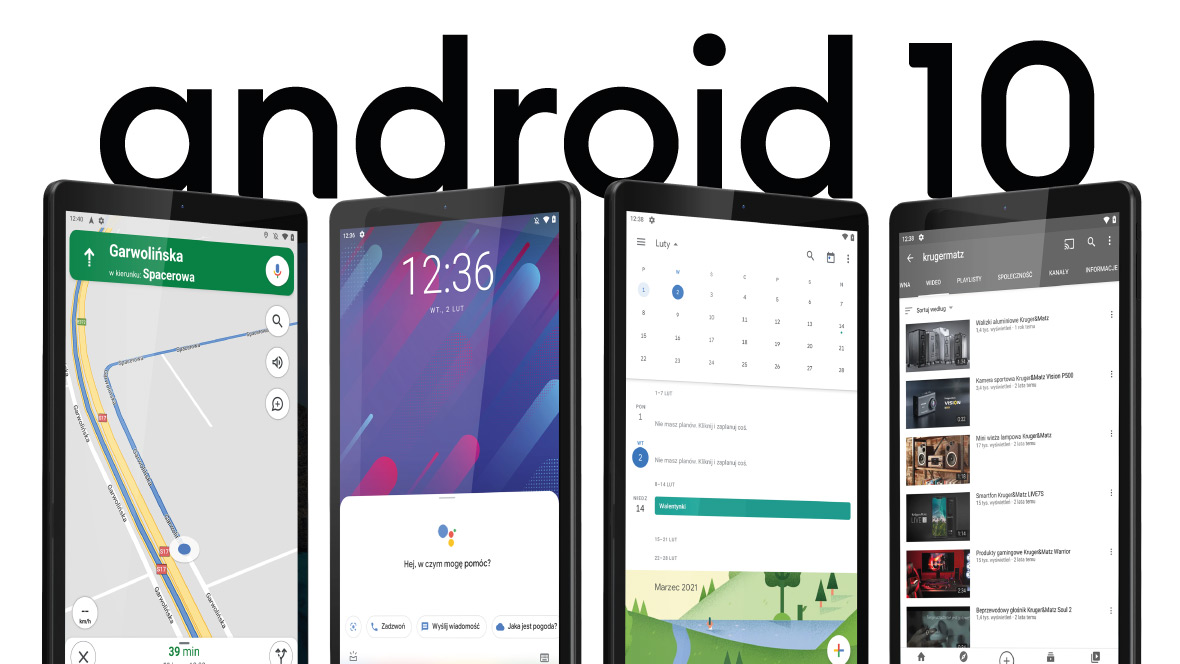 Strzał w "dziesiątkę"
EAGLE 1070 to tablet z Androidem 10, dlatego wybierając ten model otrzymujesz urządzenie, które jest niezwykle intuicyjne i przyjazne dla użytkownika. Co więcej, szereg wygodnych funkcji, w tym ulepszona nawigacja gestami czy minimalizujący zmęczenie oczu ciemny motyw, znacznie poprawia komfort użytkowania tabletu.
Swoboda komunikacji
Potrzebujesz tabletu do Internetu? Nie ograniczaj się do darmowej sieci Wi-Fi albo tetheringu. Kruger&Matz EAGLE 1070 posiada wbudowany modem LTE oraz dwa sloty SIM, dzięki temu możesz także korzystać z Internetu na kartę.
Pozostań w kontakcie
Firmowa wideokonferencja? A może luźna rozmowa online ze znajomymi? Rozmowy przez komunikatory internetowe stały się już codziennością, dlatego EAGLE 1070, poza kamerą z tyłu urządzenia, posiada także przednią kamerę 5 Mpx. Bądź w kontakcie ze wszystkimi!
Prosto do celu
Dużo podróżujesz i często korzystasz z nawigacji samochodowej? Zapomnij o dodatkowym urządzeniu w swoim aucie – po prostu wybierz tablet z GPS, aby móc korzystać z zawsze aktualnych map Google. Z EAGLE 1070 zawsze znajdziesz odpowiedni kierunek i z łatwością trafisz do celu.
Usłysz różnicę
Oczekujesz, że Twój tablet zapewni Ci nie tylko wysokiej jakości obraz, ale także dźwięk? Kruger&Matz EAGLE 1070 został wyposażony nie w jeden, a dwa głośniki, co znacznie poprawia brzmienie. Sprawdź, jaką różnicę zapewniają głośniki stereo.
Mocne wsparcie
Zastosowana w EAGLE 1070 długodziałająca bateria o pojemności 7000 mAh, sprawi że będziesz mógł korzystać z tabletu przez wiele godzin. Co więcej, urządzenie jest ładowane przez złącze USB typu C, które dzięki swojej symetrycznej budowie, zmniejsza ryzyko uszkodzenia portu ładowania.

Komfort w każdym calu
Kruger&Matz EAGLE 1070 to nie tylko bogate wnętrze – na zewnątrz urządzenie prezentuje się równie atrakcyjnie. Smukła, czarna obudowa przypadnie do gustu każdemu. W dodatku tablet jest lekki, a co za tym idzie komfortowy w użyciu. Korzystanie z niego to czysta przyjemność.
Specification
SYSTEM AND MAIN PARAMETERS
Operating system
Android
System version
10
CPU
MTK P60, MT6771, Octa-core; 2,0 GHz
GPU
Mali-G72, 800 MHz
RAM
6 GB
Internal memory
128 GB
DISPLAY
Size
10,5"
Resolution
1920x1200 px
Aspect ratio
16:10
Panel
IPS
Touch panel
Capacitive, multipoint touch
MULTIMEDIA
Camera
Rear camera: 8 Mpx, front camera: 5 Mpx
Microphone
Yes
Speakers
Yes
G-sensor
Yes
CONNECTIVITY
Built-in modem
Yes
Modem type
LTE
GPS
Yes
Wi-Fi
802.11 ac/a/b/g/n
Bluetooth
4.2
I/O
SIM slot
1x nano SIM, 1x nano SIM/micro SD (hybrid)
SD card reader
Micro SD (max. 128 GB)
USB port
USB C type
Headphones output
Jack 3,5 mm
POWER SUPPLY
AC adapter
5 V / 2000 mA
Battery capacity
7000 mAh
PHYSICAL CHARACTERISTICS
Weight
510 g
Dimensions
258 x 159 x 8 mm
SET INCLUDES
Charger, USB cable, user's manual
zakladka_1
SERWIS DOOR-TO-DOOR - 2 lata gwarancji
Masz problem ze sprzętem Kruger&Matz?
W dogodnym dla Ciebie terminie na nasz koszt wyślemy kuriera po Twoje urządzenie.
Gdy proces reklamacji się zakończy, otrzymasz wiadomość kiedy kurier dostarczy naprawiony sprzęt.
Potrzebujesz więcej informacji? Napisz do nas na [email protected] lub zadzwoń: 25 685 00 88. Nasza infolinia jest do Twojej dyspozycji od poniedziałku do piątku w godzinach 8-16.
Dlaczego Krüger&Matz?
zakladka_3
zakladka_3_tresc
Gdzie kupić?
Znajdź najbliższy sklep
Wpisz kod pocztowy, adres lub miasto, aby znaleźć sklep:
Promień:
lub: