Tablet EAGLE 702
Tablet EAGLE 702
Display: 7" HD 720x1280 px
CPU: Spreadtrum SC9832E, 4 cores, max. 1,4 GHz
Android 10 Go
2 GB RAM + 16 GB internal memory
Camera: front 0,3 Mpx, rear 2 Mpx
2800 mAh battery
2x micro SIM, 1x micro SD, jack 3,5 mm, USB-C
4G, GPS
product unavailable

add to wish list
Description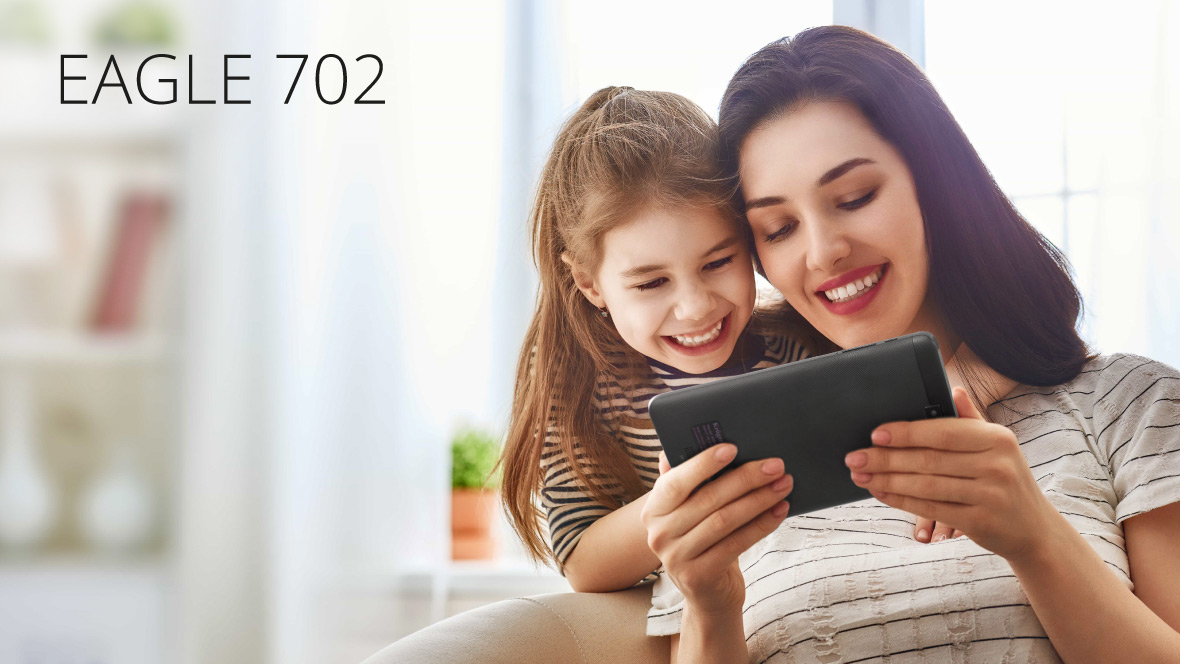 Tablet dla całej rodziny
Wybierasz się w podróż i chcesz zapewnić dzieciom rozrywkę w czasie długich godzin spędzonych w aucie? A może chcesz im sprawić odpowiednie narzędzie do nauki i zabawy w domu? Mały tablet EAGLE 702, dzięki swoim parametrom i niewygórowanej cenie świetnie sprawdzi się w rękach dziecka.
Mały tablet nie tylko dla dziecka
Tablet EAGE 702 posiada smukłą i lekką obudowę. Ze względu na swoje kompaktowe rozmiary wyróżnia się niemal nieograniczoną mobilnością. Z łatwością zmieści się w małym plecaku czy torebce, zatem może towarzyszyć Twoim najbliższym niemal wszędzie i w każdej sytuacji.
Tablet z ekranem 7 cali
EAGLE 702 dostarczy nie lada wrażeń. 7" ekran IPS o rozdzielczości 720x1280 px, HD sprawi, że oglądane filmy, wyświetlane zdjęcia czy odtwarzane aplikacje będą wyraźne i nasycone kolorami. Przekonaj się jak często to podręczne centrum rozrywki sprawi radość całej Twojej rodzinie.
Więcej miejsca na dane
2 GB RAM i 16 GB pamięci wewnętrznej w połączeniu z 4-rdzeniowym procesorem zapewniają płynną pracę urządzenia także podczas korzystania z wymagających aplikacji. Z kolei slot na kartę micro SD pozwoli rozszerzyć pamięć urządzenia o 128 GB dodatkowej przestrzeni na zdjęcia, dokumenty czy filmy.
Łączność bezprzewodowa
Niezależnie od tego, czy aktualnie jesteś w hotelu, czy na działce lub kempingu, tablet EAGLE 702 daje Ci możliwość swobodnej łączności ze światem. Jeśli nie znajdujesz się w zasięgu sieci Wi-Fi, dostępu do Internetu zapewnią dwa sloty na karty SIM oraz modem 4G LTE. Natomiast łączność Bluetooth pozwoli na wygodne przesyłanie danych pomiędzy urządzeniami.
Tablet z GPS
O tym, że EAGLE 702 jest urządzeniem, które idealnie sprawdzi się w podróży jest także fakt, że wyposażony został we wbudowany moduł GPS. Dzięki tej funkcji urządzenie może dodatkowo pełnić rolę nawigacji samochodowej.
Tablet z Androidem
Dobry tablet 7 cali, to taki, który otworzy przed całą Twoją rodziną nowy wymiar rozrywki. Taki jest właśnie EAGLE 702 z jeszcze szybszym i płynnie działającym systemem Android 10 Go dającym dostęp do sklepu Play z tysiącem gier i innych aplikacji.
Specification
SYSTEM AND MAIN PARAMETERS
Operating system
Android
System version
10 Go
CPU
Spreadtrum SC9832E, ARM-Cortex 53, Quad-Core, 64-bit, 1,4 GHz
GPU
Mali-T820 MP1
RAM
2 GB
Internal memory
16 GB
DISPLAY
Size
7"
Resolution
720x1280 px
Aspect ratio
16:9
Panel
IPS
Touch panel
Capacitive, multipoint touch
MULTIMEDIA
Camera
Front camera: 0,3 Mpx, rear camera: 2 Mpx
Microphone
Yes
Speakers
Yes
G-sensor
Yes
CONNECTIVITY
Built-in modem
Yes
GPS
Yes
Wi-Fi
802.11 b/g/n
Bluetooth
4.0
I/O
SIM slot
2x micro SIM
SD card reader
MicroSD (max. 128 GB)
USB port
USB-C
Headphones output
Jack 3,5 mm
POWER SUPPLY
AC adapter
5 V / 2000 mA
Battery capacity
2800 mAh
PHYSICAL CHARACTERISTICS
Weight
229,3 g
Dimensions
190 x 99,5 x 10,5 mm
SET INCLUDES
Charger, USB cable, user's manual
zakladka_1
SERWIS DOOR-TO-DOOR - 2 lata gwarancji
Masz problem ze sprzętem Kruger&Matz?
W dogodnym dla Ciebie terminie na nasz koszt wyślemy kuriera po Twoje urządzenie.
Gdy proces reklamacji się zakończy, otrzymasz wiadomość kiedy kurier dostarczy naprawiony sprzęt.
Potrzebujesz więcej informacji? Napisz do nas na [email protected] lub zadzwoń: 25 685 00 88. Nasza infolinia jest do Twojej dyspozycji od poniedziałku do piątku w godzinach 8-16.
Dlaczego Krüger&Matz?
zakladka_3
zakladka_3_tresc
Gdzie kupić?
Znajdź najbliższy sklep
Wpisz kod pocztowy, adres lub miasto, aby znaleźć sklep:
Promień:
lub: