Universal tablet mount
Universal tablet mount
Mounting: suction cup
Arm length: 130 mm
360° swivel
Arms adjustment: 120 - 230 mm
Weight: 143 g
product unavailable

add to wish list
Description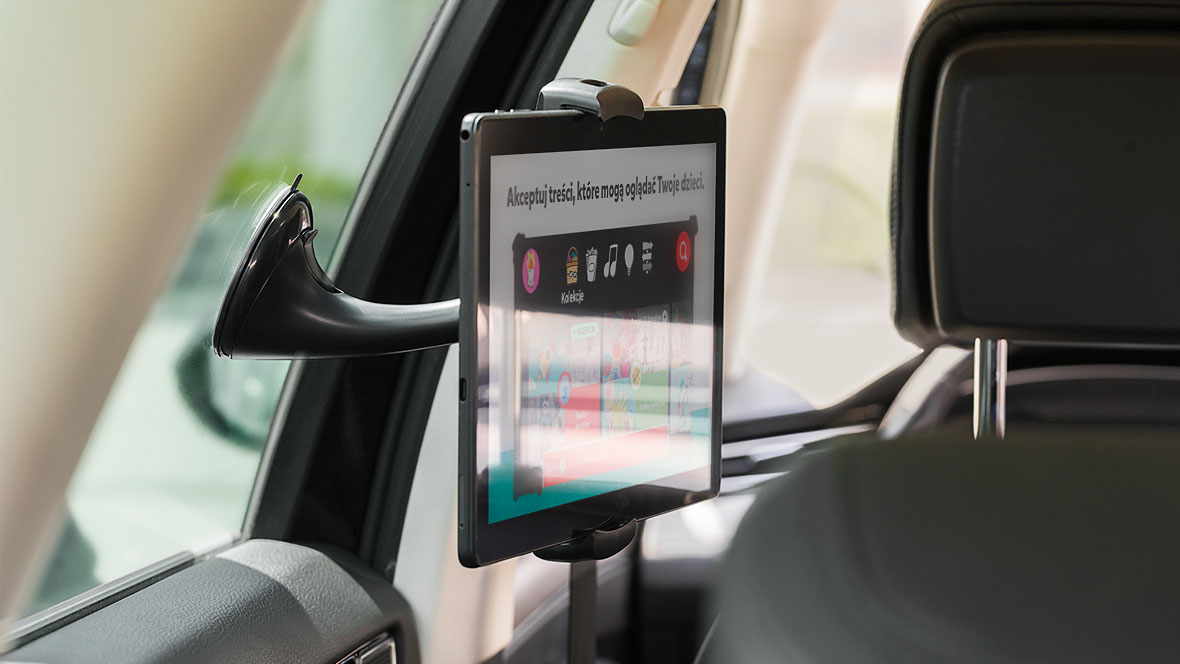 Uchwyt magnetyczny na telefon do samochodu Kruger&Matz
Planujesz dłuższą podróż z dziećmi? W takim przypadku uchwyt do tabletu w samochodzie to absolutny niezbędnik. Uniwersalny uchwyt Kruger&Matz z regulowanym rozstawem ramion w zakresie 120 - 230 mm będzie pasował zarówno do tabletu 10 cali, jak też mniejszych urządzeń.
Montaż urządzenia jest bardzo prosty i intuicyjny. KM1369 to uchwyt samochodowy do tabletu na szybę . Mocna przyssawka ramienia niweluje wstrząsy i zwiększa stabilizację urządzenia w czasie jazdy. Co ważne uchwyt posiada możliwość obrotu o 360°, co pozwoli na ustawienie tabletu w pozycji wygodnej do oglądania.
Z samochodowym uchwytem na tablet Kruger&Matz nawet długa podróż autem będzie przyjemnością!
Specification
| | |
| --- | --- |
| Type | Car |
| Mounting | On a windshield (suction cup) |
| Side arms | Adjustable, 120 - 230 mm |
| Arm length | 130 cm |
| Weight | 143 g |
zakladka_1
SERWIS DOOR-TO-DOOR - 2 lata gwarancji
Masz problem ze sprzętem Kruger&Matz?
W dogodnym dla Ciebie terminie na nasz koszt wyślemy kuriera po Twoje urządzenie.
Gdy proces reklamacji się zakończy, otrzymasz wiadomość kiedy kurier dostarczy naprawiony sprzęt.
Potrzebujesz więcej informacji? Napisz do nas na [email protected] lub zadzwoń: 25 685 00 88. Nasza infolinia jest do Twojej dyspozycji od poniedziałku do piątku w godzinach 8-16.
Dlaczego Krüger&Matz?
zakladka_3
zakladka_3_tresc
Support
No files to download
Gdzie kupić?
Znajdź najbliższy sklep
Wpisz kod pocztowy, adres lub miasto, aby znaleźć sklep:
Promień:
lub: