V-LED50 Wi-Fi LED projector
V-LED50 Wi-Fi LED projector
Wi-Fi
Max. resolution: 1920x1080 px 
Projection size: 50-120" 
LED lamp lifespan: do 50 000 h 
Keystone adjustment
Built-in speaker
2x HDMI, 2x USB, VGA, AV input, headphone output
Dispatched within:
24 godziny
Delivery:
The price does not include any possible payment costs
product unavailable

add to wish list
Description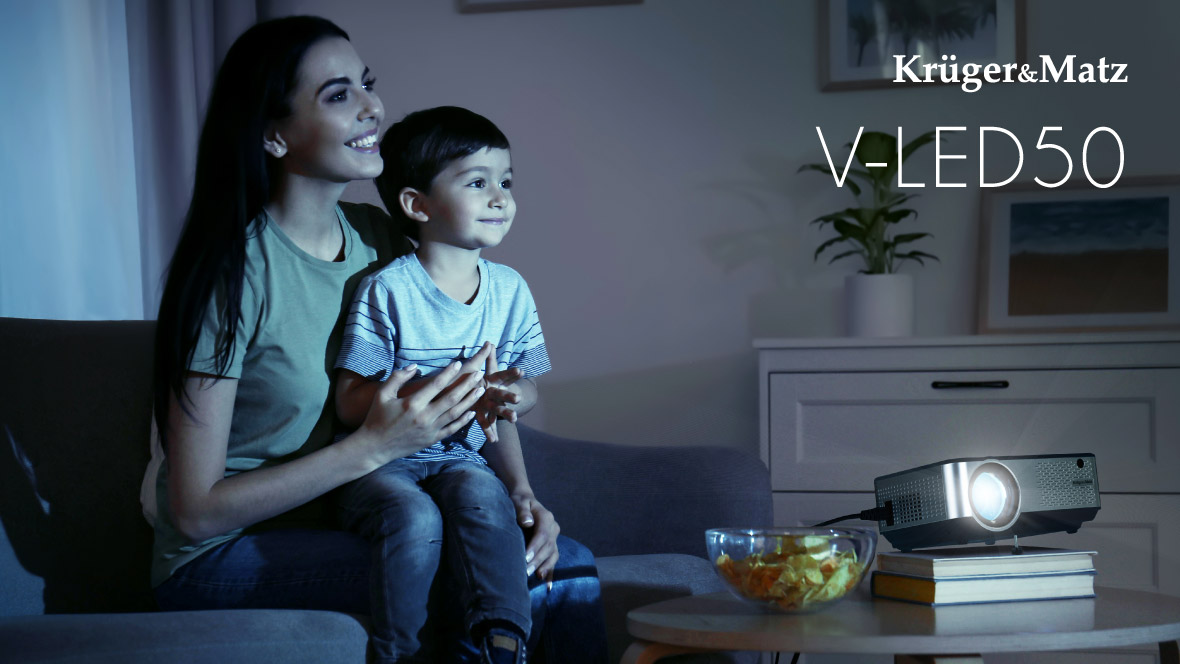 Projektor LED do domu Kruger&Matz V-LED50
Nie możesz zdecydować jaki projektor do domu będzie najlepszy? Wybór wcale nie musi być trudny! Wystarczy chwila, aby poznać wszystkie możliwości urządzenia i odkryć, że projektor LED Kruger&Matz V-LED50 będzie idealny! Szeroka funkcjonalność oraz stylowy wygląd sprawią, że będzie on doskonałym elementem wyposażenia Twojego mieszkania.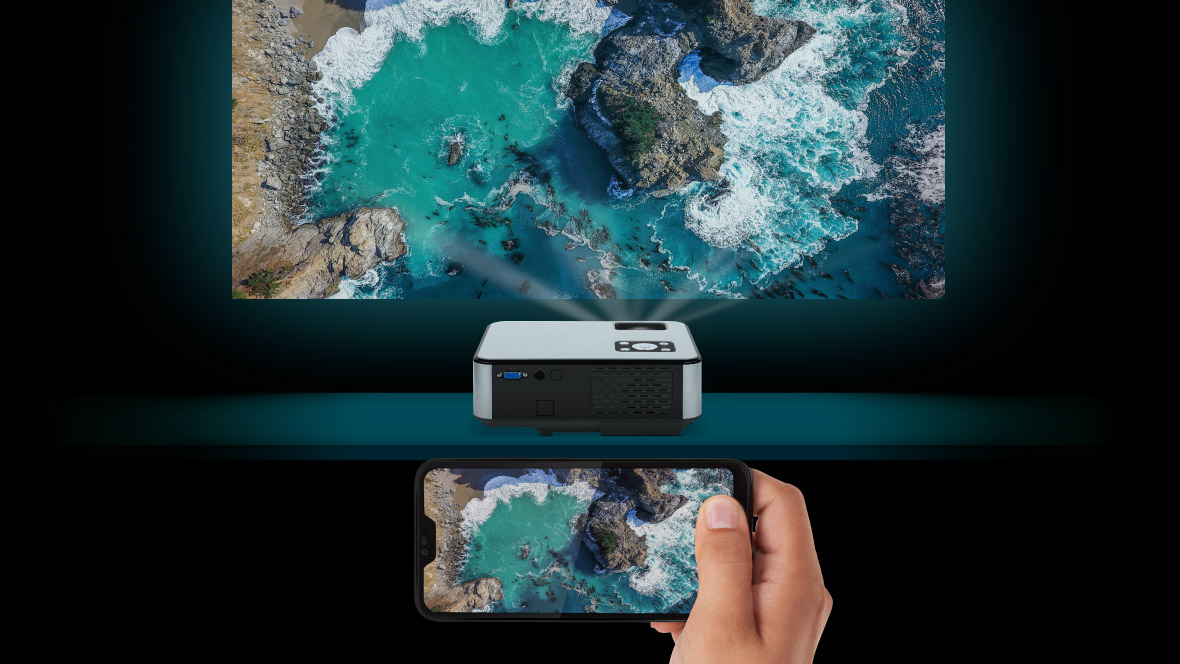 Projektor z Wi-Fi
Największą zaletą Kruger&Matz V-LED50 jest łączność Wi-Fi, która zastąpi Ci niektóre funkcje telewizora z funkcją smart. Teraz nie tylko możesz przesyłać filmy i obrazy zapisane na telefonie czy komputerze, ale także wyświetlać materiały online z platform streamingowych lub serwisu YouTube za pomocą tych urządzeń. I to wszystko bez podłączania dodatkowych kabli!
Projektor full HD
Zastanawiasz się czy wybrać projektor czy telewizor? Wybór jest prosty! Kruger&Matz V-LED50 posiada regulowany rozmiar projekcji i pozwala na wyświetlanie obrazów o przekątnej nawet 120". Teraz za każdym razem oglądając film możesz czuć się jak na sali kinowej.
Pokrętło regulacji Keystone
Projektor multimedialny LED Kruger&Matz został wyposażony w dwa pokrętła, którymi wygodnie dostosujesz ustawienia obrazu do własnych wymagań. Pierwszym ręcznie ustawisz ostrość, natomiast drugie pozwoli na korekcję zniekształceń trapezowych.
Długa żywotność lampy
Wybierając domowy projektor LED zwróć uwagę na żywotność lampy. Ta w projektorze Kruger&Matz V-LED50 posłuży nawet przez 50 000 godzin, co daje ponad 5 lat ciągłego oglądania. Ciesz się urządzeniem, które posłuży Ci na lata.
Projektor LED z HDMI
Wykorzystanie sieci Wi-Fi to oczywiście nie jedyna możliwość przesyłania obrazu. Projektor Kruger&Matz V-LED50 daje dużo innych możliwości, jeśli chodzi o wybór źródła odtwarzania. Do dyspozycji masz szereg portów: HDMI, USB, port VGA oraz wejście AV, dzięki którym podłączysz dekoder cyfrowy, pendrive czy laptop.
Projektor z wbudowanym głośnikiem
Projektor Kruger&Matz V-LED50 został wyposażony w głośnik, który nie tylko posiada ręczną regulację balansu, ale także 5 trybów dźwięku. Jeśli jednak wbudowany głośnik to dla Ciebie za mało, możesz skorzystać z wyjścia AUX, które umożliwi Ci podłączenie dodatkowego zestawu głośników.
Sterowanie za pomocą pilota
Projektor do domu Kruger&Matz V-LED50 to także wygoda użytkowania. Do zestawu został dołączony pilot, dzięki któremu możesz np. wybierać źródło odtwarzania czy regulować głośność bez podnoszenia się z kanapy.
Projektor montowany do statywu
Nie masz miejsca na półce czy stoliku? To żaden problem! Na spodzie projektora Kruger&Matz V-LED50 znajdziesz dwa gwinty, które umożliwiają montaż projektora do tripoda lub uchwytu.
Specification
PICTURE PARAMETERS
Native resolution
1280x720 px
Max. resolution
1920x1080 px
Projection size
50-120"
Projection system
LCD (panel) + LED (lamp)
Brightness
2800 lm
Contrast ratio
1500:1
Aspect ratio
16:9 / 4:3
Throw ratio
1.4 : 1
Refresh ratio
50 Hz
Display colors
16,7 M
Picture mode
Standard, soft, user, vivid
Focus
Manual
Image flip
0/180°
LED lamp lifespan
up to 50 000 h
Lens
F=135
Lamp type
LED 70 W
Keystone adjustment
Manual (+/-15°)
Noise level
<45 dB
Projection distance
1,5-3,5 m
CONNECTION
Wi-Fi communication
Yes
Supported OS
Android (4.2 and higher; external device needs to have at least 1 GB free memory)
AUDIO
Built-in speaker
3 W; 4 Ohm
Sound parameters
Standard, user, music, movie, sports
Equalizer
Yes
COMPATIBILITY
Video files
MPEG1, MPEG2, H.263, H.264, AVS, VC1, MJPEG, RV30, RV40, HEVC
Image files
JPG, PNG, BMP
Audio files
MPEG1, MPEG2, LPCM, MP3
USB playback
Movie, music, photo, text
OTHER INFORMATIONS
Auto power off
Yes
Mounting threads
1x M4, 1x 1/4"
Menu languages
Polish, English, German, Romanian, French, Spanish, Italian, Russian, Czech, Croatian, Greek, Hungarian, Dutch, Portuguese, Slovenian, Norwegian, Serbian, Bulgarian, Finnish, Swedish, Chinese, Vietnamese
I/O
Headphone output (3, 5 Jack), 2x HDMI (MHL), 2x USB (2.0), AV input, VGA
POWER SUPPLY
Power supply
100-240 V; 50/60 Hz
Power consumption
70 W
Power consumption (stand-by)
=<0,5 W
PHYSICAL PARAMETERS
Working temperature
0~30°C
Dimensions
222 x 170 x 91 mm
Weight
1,4 kg
SET INCLUDES
Projector, AV cable (Jack 3,5 - 3x RCA), power cable, remote control, support base
zakladka_1
SERWIS DOOR-TO-DOOR - 2 lata gwarancji
Masz problem ze sprzętem Kruger&Matz?
W dogodnym dla Ciebie terminie na nasz koszt wyślemy kuriera po Twoje urządzenie.
Gdy proces reklamacji się zakończy, otrzymasz wiadomość kiedy kurier dostarczy naprawiony sprzęt.
Potrzebujesz więcej informacji? Napisz do nas na [email protected] lub zadzwoń: 25 685 00 88. Nasza infolinia jest do Twojej dyspozycji od poniedziałku do piątku w godzinach 8-16.
Dlaczego Krüger&Matz?
zakladka_3
zakladka_3_tresc
Gdzie kupić?
Znajdź najbliższy sklep
Wpisz kod pocztowy, adres lub miasto, aby znaleźć sklep:
Promień:
lub:
Shipping costs

The price does not include any possible payment costs