XB 50 bike frame bag
XB 50 bike frame bag
Waterproof PU material 
Phone holder
Transparent, touch sensitive film
Headphones wire slot
Reflective parts
product unavailable

add to wish list
Description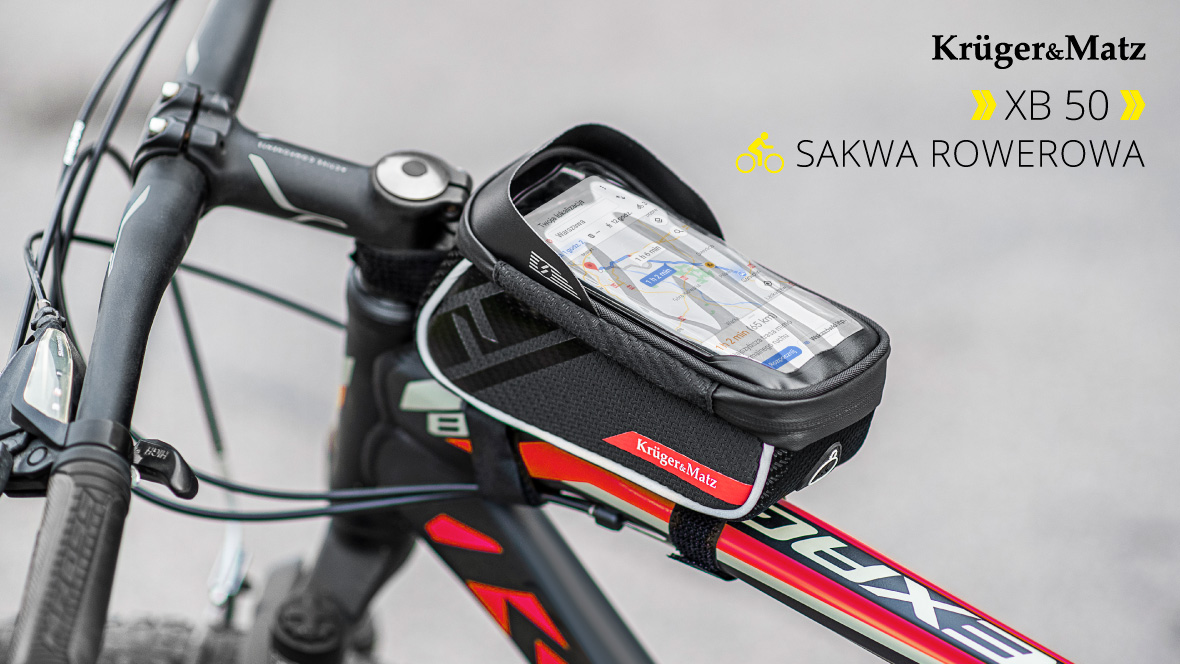 Wodoodporna sakwa rowerowa na ramę Kruger&Matz XB 50
Sakwa Kruger&Matz przyda się każdemu, kto codziennie pokonuje kilometry swoim rowerem. Łatwy montaż oraz dużą stabilność zapewnia trzypunktowe mocowanie do ramy pojazdu. Zatem wystarczy, że umieścisz ją na swoim rowerze, a będziesz mógł swobodnie i komfortowo przemierzać nie tylko krótkie trasy, a także realizować dłuższe wyprawy rowerowe.

Produkt wykonany jest z wodoodpornego, twardego tworzywa PC i skrywa dwie przegrody o łącznej pojemności 800 ml. To sprawia, że pomieści wszystkie niezbędne w czasie drogi drobiazgi, ale także zagwarantuje ich bezpieczeństwo podczas przypadkowego upadku czy uderzenia.

Konstrukcja etui rowerowego Kruger&Matz została zaprojektowana w taki sposób, by zapewnić Ci maksymalny komfort w czasie podróży. Przezroczysta, reagująca na dotyk osłona zabezpieczona rzepem to świetne miejsce na Twój smartfon. Dzięki niej możesz swobodnie korzystać z nawigacji, wykonywać połączenia telefoniczne czy zarządzać muzyką. Tym bardziej, że na obudowie znajdziesz też otwór na przewód słuchawek.
Specification
| | |
| --- | --- |
| Material | Waterproof PU |
| Mounting | Three mounting points |
| Phone holder | Yes |
| Capacity | 800 ml |
| Maximum phone dimensions | 16 x 9 cm |
| Dimensions | 20 x 11 x 12 cm |
| Weight | 150 g |
zakladka_1
SERWIS DOOR-TO-DOOR - 2 lata gwarancji
Masz problem ze sprzętem Kruger&Matz?
W dogodnym dla Ciebie terminie na nasz koszt wyślemy kuriera po Twoje urządzenie.
Gdy proces reklamacji się zakończy, otrzymasz wiadomość kiedy kurier dostarczy naprawiony sprzęt.
Potrzebujesz więcej informacji? Napisz do nas na [email protected] lub zadzwoń: 25 685 00 88. Nasza infolinia jest do Twojej dyspozycji od poniedziałku do piątku w godzinach 8-16.
Dlaczego Krüger&Matz?
zakladka_3
zakladka_3_tresc
Support
No files to download
Gdzie kupić?
Znajdź najbliższy sklep
Wpisz kod pocztowy, adres lub miasto, aby znaleźć sklep:
Promień:
lub: