XH20 electronic bike horn
XH20 electronic bike horn
4 horn sounds
5 volume levels
Loudness: do 100 dB
Protection class: IP65
Handlebar mounting
Dispatched within:
24 godziny
Delivery:
The price does not include any possible payment costs
product unavailable

add to wish list
Description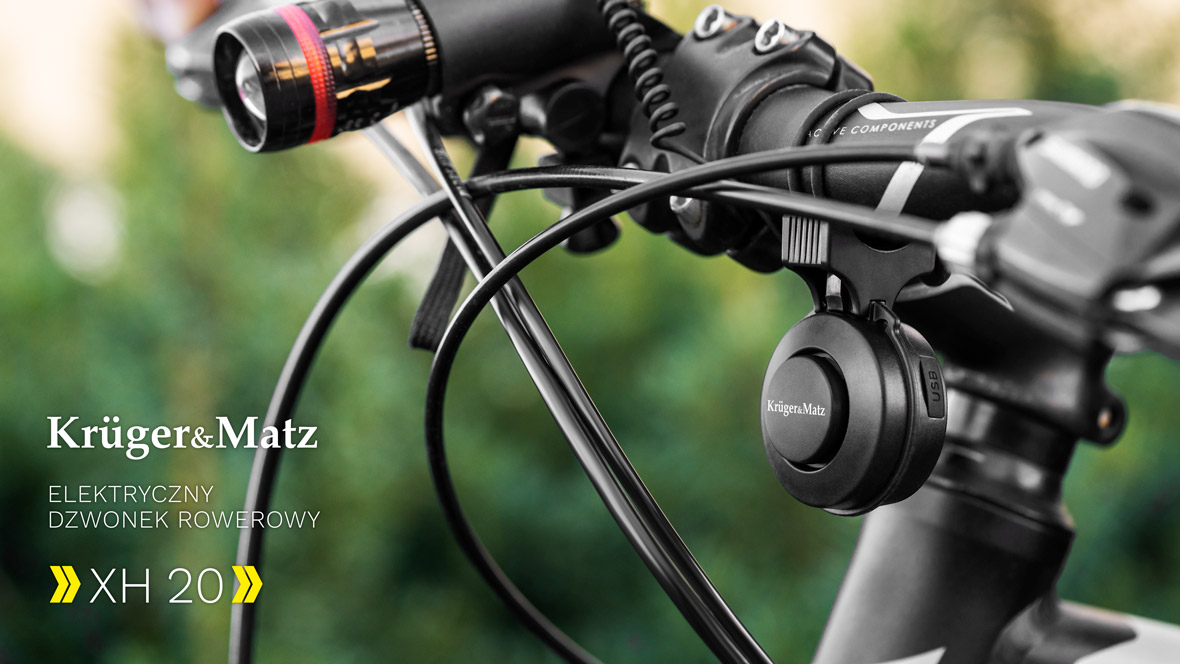 Elektryczny dzwonek rowerowy Kruger&Matz XH20
Dzwonki elektryczne do roweru, to nowoczesne urządzenia, które coraz bardziej zyskują na popularności wśród miłośników jazdy na dwóch kółkach. Dzięki nim, możesz swobodnie pokonywać krótką trasę do pracy, albo wybrać się na dłuższą wyprawę, bez obaw że coś stanie Ci na przeszkodzie. Jednak zastosowanie urządzenia jest zdecydowanie szersze – śmiało możesz wykorzystać go też jako dzwonek do hulajnogi elektrycznej.

Zatem jeśli zastanawiasz się jaki dzwonek do roweru albo hulajnogi wybrać, postaw na nowoczesność. Elektryczny dzwonek rowerowy Kruger&Matz XH20 to mocowane na kierownicę urządzenie o maksymalnej głośności do 100 dB, którym bez problemu zasygnalizujesz swoją obecność na drodze. Tym bardziej, że do wyboru masz 4 rodzaje dźwięków oraz 5 poziomów ich natężenia.

Dzwonek do roweru Kruger&Matz wyposażony jest w litowo-jonowy akumulator o pojemności 280 mAh, która wystarczy na wiele kilometrów Twoich tras. Co ważne, dzięki wejściu USB szybko naładujesz urządzenie, a o pełnej baterii poinformuje Cię wskaźnik ładowania.

Dzwonek elektryczny do roweru został wykonany z wysokiej jakości materiałów, co sprawia że nie zawiedzie Cię w trasie. Tym bardziej, jest to urządzenie wodoodporne, dzięki czemu swobodnie możesz z niego korzystać także wtedy, gdy na drodze zaskoczy Cię deszcz.
Specification
| | |
| --- | --- |
| Horn sounds | 4 |
| Volume adjustment | 5 levels |
| Mounting | Handlebar |
| Charging indicator | Yes |
| Loudness | Up to 100 dB |
| Protection class | IP65 |
| Battery | lithium-ion / 3,7 V / 280 mAh |
| Charging time | Approx. 1,5 hours |
| Cable length | 40 cm |
| Material | ABS + PC |
| Weight | 44,5 g |
zakladka_1
SERWIS DOOR-TO-DOOR - 2 lata gwarancji
Masz problem ze sprzętem Kruger&Matz?
W dogodnym dla Ciebie terminie na nasz koszt wyślemy kuriera po Twoje urządzenie.
Gdy proces reklamacji się zakończy, otrzymasz wiadomość kiedy kurier dostarczy naprawiony sprzęt.
Potrzebujesz więcej informacji? Napisz do nas na [email protected] lub zadzwoń: 25 685 00 88. Nasza infolinia jest do Twojej dyspozycji od poniedziałku do piątku w godzinach 8-16.
Dlaczego Krüger&Matz?
zakladka_3
zakladka_3_tresc
Gdzie kupić?
Znajdź najbliższy sklep
Wpisz kod pocztowy, adres lub miasto, aby znaleźć sklep:
Promień:
lub:
Shipping costs

The price does not include any possible payment costs